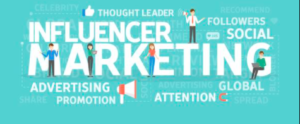 By James Pruitt, Senior Staff Writer
The social media age has brought attention to the various Instagram, Twitter, YouTube, and TikTok accounts of countless well-known influencers. Such influencers can range from celebrities to smaller-scale social media personalities. 
Some of these influencers have great recipes, some design beautiful clothes, and some developed a following through their own inertia. Endorsements from these personalities can bring huge profits. However, many ask for high prices in return. Smaller business owners can find their own niche partnering with users with their own localized networks in their own industries.    Below are a few suggestions:
(1) Consider your strengths, interests, and motives for becoming a small business owner:
Most small businesses start with special expertise, interest, or hobby. These days, fellow travelers are often online. Joining a community is the best strategy. Within your interest group, you may find communities. Within one of these communities, someone may happily promote your product on their YouTube channel, Facebook community, or other localized sites. The trick? Find people with a genuine understanding and interest in what you have to offer.
(2) Always respect micro-influencers, especially those who operate within your own niche:
Kim Kardashian charges a fortune to promote a product on her Instagram and other social media sites. Small business owners need not look for endorsements from a Kim Kardashian or a Paris Hilton. Small businesses tend to work through their own specialized niches. Obviously, paying Kim Kardashian or Paris Hilton a fortune to advertise your brand-new transmission generator would increase sales short term. 
However, a more cost-effective strategy would zero in on the local industry, as well as local hobbyists and business people who might have used it for such a contraption. These localized groups may even have distribution networks that can place your new product or service in front of the right interested parties.
(3) Remember the power of free stuff:
After zeroing in on the right community, business owners with a new concept may benefit from distributing samples of a new product itself. Free samples have long promoted new recipes, inventions, and contraptions. Innovations like YouTube can spread the word throughout your interest group or industry. 
As a first step, a business owner should find the right group of people. Luckily for our generation, the Internet can help to foster that process. Next, an independent businessperson can share their innovations with the relevant community. Next, hopefully, a satisfied well-wisher may provide an online demonstration! 
(4) Try to develop a long-term plan:
Baby steps can grow your concept further. Business owners with a new idea can slowly reach their tendrils outward by reaching out to fellow travelers. Depending on your goals, profits should come first, and profits come from you and your partners doing what you best. Perhaps your plans entail only a small business that can keep you personally fulfilled while keeping you comfortable economically. Perhaps you have wider ambitions. Either way, never underestimate the strategic use of social media micro-influencers. 
Remember, though, practicality is key. Extravagant use of widely visible personalities can only waste time and misdirect efforts towards people who will roll their eyes at a promotion of the product that neither they nor the influencer has any genuine interest in. However, in the age of the Internet, plenty of lucrative micro-influencers may give you a foothold right in the industry where you mean to take root.
VAMBOA, the Veterans and Military Business Owners Association hope that this article has not only been valuable but provided some unique perspective.  We work hard to bring you important, positive, helpful, and timely information and are the "go-to" online venue for Veteran and Military Business Owners.  VAMBOA is a non-profit trade association.   We do not charge members any dues or fees and members can also use our seal on their collateral and website.   If you are not yet a member, you can register here:  
https://vamboa.org/member-registration/
We also invite you to check us out on social media too.
Facebook:  https://www.facebook.com/vamboa
Twitter:  https://twitter.com/VAMBOA
Do not forget that VAMBOA members receive significant discounts on technology needs.   Check them out here: https://vamboa.org/dell-technologies/