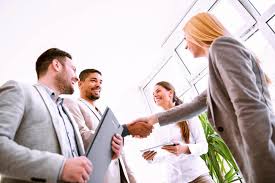 By Debbie Gregory.
In order to build a successful business, you need to have a solid foundation. Part of that foundation includes relationships with your clientele, vendors, etc.
When dealing with the U.S. Federal Government, you probably already know that you have competition—a lot of competition. The government is the largest buyer of goods and services in the world, spending over $500 billion per year. So how do you make your business stand out and become noticeable to contracting officers, small business specialists, and program offices?
Relationships! In friendships or business, human nature dictates that people want to be with and work with those they know and like. Be committed to consistently reaching out and making the effort to keep you and your business at the forefront of the minds of the people with whom you want to work.
Be sure that you leave a positive impression with each contact you have, be it in person, on the phone or through email. Always be courteous, even if you are feeling rejected. Let them see how easy it is to work with you. Make sure you have done your homework and are prepared, so that you know they're buying what you're selling.
Make sure that your end-user knows you can do the job by showing them completed projects of similar complexity, size and scope. Additionally, respond to their inquiries and correspondence in a most timely manner.
And last, but not least, share information and technical expertise as part of your commitment to building or fortifying your relationships with current and potential customers.