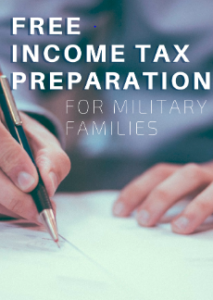 Tax Preparation Resources for Military – Free & Discounted Services 
It seems tax season is here sooner each year   It can be more complicated for military families.   There are some filing preparation services available that are either discounted or free.  It is VAMBOA's pleasure to bring them to your attention and make this task just a little easier and less stressful.
Assembling Your Documents – If you are prepared and have assembled the important and necessary documents to file, it will be much easier, quicker and less stressful.   Below is a list of what you need;
Photo ID/Military ID

Social security cards for you and each family member claimed on the return

Wage and earning statement(s), such as Forms W-2, W-2G, and 1099-R – you can download from MyPay website here: https://mypay.dfas.mil/mypay.aspx

Child care costs

Investment income forms

Receipts for charitable donations

Receipts for deductible expenses

Your bank routing numbers and account numbers for direct deposit

Last year's returns
We will begin with Online Tax Preparation Services that include:
TurboTax

– offers discounts on software for active-duty military.   Servicemembers who are an E5 or below can obtain free federal and state filing with Free Edition or Deluxe.  There is also a $5 off discount available for Premier, Self-Employed and Turbo Tax Live federal products. Those with an E6 and above pay grade are eligible for a $5 discount or more on all TurboTax federal products.

TaxSlayer

– has a military offer that allows active duty to file military to e-file a federal return for free.  State returns are additional.

IRS Free File Software

– You can file your federal individual income tax return for free using tax-preparation-and-filing software.   If your income is below $66,000, it is free for federal and state return options. If your income is above $66,000 you can use Free File Fillable Forms.

Military OneSource

– This is such a great resource in so many areas for those who serve.   They provide free tax preparation and e-filing software as well as easy access to tax consultants and free in-person preparation through approved Volunteer Income Tax Assistance offices.  Their easy to use software, MilTax is designed for the military community too.
Military Installation Tax Centers – Many large military installations worldwide offer servicemembers and their families free income ta filing assistance via VITA, the Volunteer Income Tax Assistance Program which is sponsored by the IRS.  VITA volunteers are trained by the IRS to provide assistance with military specific tax issues that include combat-zone tax benefits and more.  They know their stuff when it comes to military taxes!
H&R BLOCK – The Army & Air Force Exchange Service is joining forces with H&R BlOCK to offer military members and their families a 10% discount in select Exchange locations worldwide.  Please see a list of locations for CONUS and OCONUS at the bottom of this article.
https://bit.ly/2J6faU4
| | | | | |
| --- | --- | --- | --- | --- |
| Installation | CONUS | State | Zip Code | Office Phone# |
| PATRICK AFB | 1221 S PATRICK DR | FL | 32925 | 321-868-0285 |
| MACDILL AFB | Bldg 926, 3108 N BOUNDRY BLVD, Tampa | FL | 33621 | 813-840-1512 |
| BOLLING AFB | Washington DC, 20 MAC DILL BLVD | DC | 20032 | 202-729-3920 |
| ANDREWS AFB | JOINT BASE ANDREWS, BLDG 1683 | MD | 20762 | 301-568-2154 |
| FORT MEADE | FORT MEADE AB BLDG 2790 2790 MACARTHUR RD | MD | 20755 | 410-672-0271 |
| FT LEE | PETERSBURG, 300 A AVE BLDG 1605 MAIN PX | VA | 23801 | 804-518-3850 |
| FORT BELVOIR | FORT BELVOIR, 8651 JOHN J KINGMAN RD | VA | 22060 | 703-337-9001 |
| HANSCOM AFB | HANSCOM AFB 1709 EGLIN ST- BASE EXCHANGE | MA | 01731 | 781-264-2228 |
| WEST POINT | WEST POINT, 1204 STONY LONESOME ACCESS RD | NY | 10996 | 845-446-5187 |
| JBDML | AAFES MAIN EXCHANGE BLDG 3452 BROIDY RD | NJ | 08641 | 609-723-3604 |
| FT HAMILTON | BROOKLYN, 123 GENERAL LEE AVE | NY | 11252 | 718-748-4282 |
| FORT DRUM | MAIN PX BLDG P 10730 A, 10730 ENDURING FREEDOM DR | NY | 13602 | 315-681-4810 |
| FORT BRAGG | BLDG 42171 REILLY RD | NC | 28310 | 910-436-0108 |
| FORT BRAGG | BLDG 85050 BUTNER RD N POST PX BLDG | NC | 28310 | 910-436-0475 |
| FORT BRAGG | SOUTH POST PX, BLDG Z 3252 CANOPY LN | NC | 28310 | 910-493-0491 |
| LANGLEY AFB | LANGLEY AFB – 61 SPAATZ DRIVE, 61 SPAATZ DR | VA | 23665 | 757-865-1024 |
| FORT EUSTIS | FORT EUSTIS BLDG 1527 | VA | 23604 | 757-243-2245 |
| FORT GORDON | FORT GORDON EXCHANGE BLDG 38200 3RD AVE | GA | 30905 | 706-793-1956 |
| HUNTER AAF | SAVANNAH 171 HALEY AVE BLDG 1286 | GA | 31409 | 912-692-1163 |
| FORT JACKSON | FORT JACKSON BLDG 4712 LEE RD | SC | 29207 | 803-782-7430 |
| CHARLESTON AFB | CHARLESTON AIR FORCE BASE, BLDG 1990 | SC | 29404 | 843-552-8881 |
| FORT LEONARD WOOD | 233 ILLINOIS AVE BLDG 498 | MO | 65473 | 573-329-5310 |
| FORT SILL | FORT SILL PX (IN THE FOOD COURT) 1718 MACOMB RD | OK | 73503 | 580-353-6347 |
| FORT LEWIS | FORT LEWIS MINI MALL | WA | 98433 | 253-964-2161 |
| MCCHORD AFB | MCCHORD AIR FORCE BASE, 6330 111TH ST SW | WA | 98438 | 253-581-0835 |
| MCCHORD AFB | FORT LEWIS-MCCHORD AFB, 41ST DIVISION DR AND A ST | WA | 98438 | 253-964-2488 |
| FORT STEWART | CONCESSION SHOP 112 VILSECK RD | GA | 31314 | 912-876-2224 |
| FORT STEWART | 345 LINDQUIST RD BLDG 71 | GA | 31315 | 912-877-3421 |
| FORT BUCHANAN | FORT BUCHANAN, BLDG 689 | PR | 00934 | 787-994-9384 |
| LUKE AFB | GLENDALE 7071 N 138TH AVE BLDG 1540 | AZ | 85307 | 623-979-3821 |
| DAVIS MONTHAN AFB | GLENDALE 5405 E GRANITE ST | AZ | 85707 | 520-514-9066 |
| KIRTLAND AFB | KIRTLAND AFB EXCHANGE, 8000 GIBSON BLVD BLD 20170 | NM | 87117 | 505-268-1222 |
| FORT BLISS | FORT BLISS 1 BLDG 1611 | TX | 79916 | 915-566-5639 |
| FORT BLISS | FORT BLISS 2 BLDG 13471 | TX | 79916 | 915-566-5758 |
| TRAVIS AFB | 461 SKYMASTER CIRCLE BLDG 650, PO BOX 1505 | CA | 94535 | 707-437-1448 |
| MCCLELLAN | ARMY AIR FORCE EXCH SERV AAFES, 5443 DUDLEY BLVD BLDG 911 | CA | 95652 | 916-921-1449 |
| EDWARDS | EDWARDS AFB 240 W FITZGERALD BLVD | CA | 93524 | 661-809-0676 |
| HICKAM AFB | HICKAM AFB, BXTRA BLG 1235 | HI | 96853 | 808-422-9098 |
| SCHOFIELD BARRACKS | SCHOFIELD BARRACKS, BLDG 694-PX | HI | 96857 | 808-853-4725 |
| FORT SHAFTER | FORT SHAFTER BLDG 537 | HI | 96858 | 808-487-6079 |
| FORT CARSON | FORT CARSON EXCHANGE 1510 CHILES AVE | CO | 80913 | 719-576-2070 |
| COLORADO SPRINGS | AAFES-PETERSON AIR FORCE BASE, 1030 E STEWART AVE BLDG 2017 | CO | 80914 | 719-596-3366 |
| BUCKLEY AFB | BUCKLEY AIR FORCE BASE, 365 TELLURIDE BLVD | CO | 80011 | 303-341-4472 |
| HILL AFB | 5845 E AVE, BLDG 412 | UT | 84056 | 801-776-9655 |
| MALMSTROM AFB | 7200 PERIMETER RD, BLD 1340 | MT | 59402 | 406-727-3577 |
| FAIRCHILD AFB | FAFB BASE EXCHANGE, 101 W SPAATZ RD | WA | 99011 | 509-244-7006 |
| EXCHANGE HQ | 3911 S WALTON WALKER RD DALLAS | TX | 75236 | 214-339-1669 |
| NASJRB FT WORTH | FT. WORTH, 1880 MILITARY PKWY | TX | 76127 | 817-732-4759 |
| FORT HOOD | FORT HOOD, 4250 CLEAR CREEK RD | TX | 76544 | 254-526-0139 |
| FORT HOOD | FORT HOOD BLDG 136, 761ST AT TANK BATALLION AVE | TX | 76544 | 254-532-8651 |
| FORT HOOD | FORT HOOD #3 BLDG 52021 TANK DESTROYER BLVD | TX | 76544 | 254-616-1634 |
| FORT HOOD | 19TH STREET MALL BLDG 9401 BATTALION AVE | TX | 76544 | 254-532-1675 |
| RANDOLPH AFB | UNIVERSAL CITY, 630 3RD ST W BLDG 1068 | TX | 78148 | 210-566-6243 |
| LACKLAND AFB | LACKLAND AFB 2180 REESE ST BLDG 1285 | TX | 78236 | 210-670-2216 |
| FORT SAM HOUSTON | 2406 REYNOLDS RD BLDG 366 | TX | 78234 | 210-588-2921 |
| FORT SAM HOUSTON | MINI MALL, 3150 HARDEE RD BLDG 1387 | TX | 78234 | 210-444-0219 |
| JBER | 5800 WESTOVER AVE | AK | 99506 | 907-222-2978 |
| FORT IRWIN | 308A LANGFORD LAKE RD | CA | 92310 | 760-267-8757 |
| NELLIS AFB | NELLIS AIR FORCE BASE, 5691 RICKENBACKER RD BLDG 431 | NV | 89191 | 702-309-2831 |
| FORT BENNING | FORT BENNING EXCHANGE, 9220 MARNE RD | GA | 31905 | 706-225-8830 |
| MAXWELL AFB | MONTGOMERY, 355 KELLY ST | AL | 36112 | 334-523-2866 |
| KEESLER AFB | AAFES, 506 LARCHER BLVD BLDG 2306 | MS | 39534 | 228-435-1335 |
| BARKSDALE AFB | BARKSDALE AFB, 455 CURTIS RD BLDG 4711 | LA | 71110 | 318-747-2883 |
| FORT POLK | FORT POLK, BLDG 850 – 7742 COLORADO AVE | LA | 71459 | 337-537-6355 |
| EGLIN AFB | EGLIN AIR FORCE BASE 1757 MEMORIAL TRAIL | FL | 32542 | 850-651-2254 |
| TYNDAL AFB | 108 OKLAHOMA BLDG 912 | FL | 32403 | 850-286-1415 |
| ROBINS AFB | BLDG 982 MACON ST, MAIN EXCHANGE LOBBY | GA | 31098 | 478-923-9501 |
| WRIGHT PATTERSON AFB | 2275 D ST, AREA BLD 16 | OH | 45433 | 937-639-3173 |
| WRIGHT PATTERSON AFB | 1250 CHESTNUT ST AREA A | OH | 45433 | 937-306-2100 |
| OFFUTT A F B | OFFUTT AFB EXCHANGE 106 MEYER AVE BLDG 166 | NE | 68113 | 402-292-1196 |
| FORT RILEY | FORT RILEY MILITARY BASE BLDG 2210 TROOPER DR | KS | 66442 | 785-717-2435 |
| FORT LEAVENWORTH | 330 KANSAS AVE, BLDG 700 | KS | 66027 | 913-364-2584 |
| TINKER AFB | TINKER EXCHANGE, 3360 N AVE BLDG 685 | OK | 73145 | 405-455-5178 |
| FORT KNOX | 127 GOLD VAULT RD | KY | 40121 | 502-799-0560 |
| FORT CAMPBELL | 2840 BASTOGNE AVE, LOCATED IN LEFT SIDE OF PX | KY | 42223 | 270-640-7510 |
| LITTLE ROCK AFB | 787 SIXTH ST LITTLE ROCK | AR | 72099 | 501-983-0001 |
OCONUS
| | |
| --- | --- |
| Location | Office Phone# |
| EU Baumholder Bldg. 8243 | 06783-9049003 |
| EU Kleber Kaseme Bldg. 3231 | 0631-41456444 |
| EU KMCC Bldg. 3336 | 0631-8020410 |
| EU Stuttgart Panzer Mall Bldg. 2903 | 07031-6314800 |
| EU Grafenwoehr Tower Barracks Bldg. 700 | 49173-5736112 |
| EU Grafenwoehr Rose Barracks Bldg. 2203 | 49173-5736112 |
| EU Vincenza Bldg. 305 Via Aldo Moro | 0444-303327 |
| EU Lakenheath Bldg. 1034 Bury St Edmunds | 01638-533919 |
| PAC Hickam 1232 Hickam CT | 808-422-9098 |
| PAC Schofield 694 McComack Rd | 808-853-4725 |
| PAC Ft Schafter 550 Pierce Rd | 808-487-6079 |
| PAC OKI Kadena Bldg. 412 | 036-868-2278 |
| PAC OKI Foster Bldg. 1002 Foster | 098-971-9307 |
| PAC OSN Bldg. 965, Unit 2038 Osan Air Base | 070-7597-0132 |
| PAC Hump Bldg. P-4600 Room H101 Camp Humphreys | 070-7727-6100 |
| PAC Korea-Yongsan Yongsan Main Post S 2209 | 070-4186-6890 |