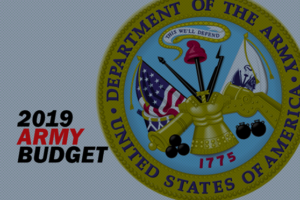 By Debbie Gregory.
The U.S. Army will be moving $31.5 billion over the next five years from lower-priority programs to the service's top-priority needs, according to undersecretary Ryan McCarthy. The 2020 fiscal budget will ensure that the service branch's top priorities of readiness and modernization, the "Big Six" , remain on track.
"All six of the Army modernization priorities will have vast increases, and you will see a sustained push to the readiness portfolio because we made hard choices inside of our budget," McCarthy said.
The Big Six include: long-range precision fires, next-generation combat vehicle, future vertical lift, a mobile network, air and missile defense, and soldier lethality.
This year, the Army plans to launch a competition for new armored vehicles; award development contracts for scout aircraft and helicopter engines; conduct key tests of long-range missiles, anti-aircraft defenses, rifles, targeting goggles, and multiple battlefield networks; and field new electronics for command posts.
Overall, McCarthy said, "We are trying to enable the National Defense Strategy" — which prioritizes preparing for high-intensity war with China and Russia — "and have taken some pretty dramatic steps in order to get there. We've been very consistent about where we were trying to take the Army… with that comes some very difficult choices."
McCarthy would not give details about which programs have been cut, restructured or canceled. The question is whether Congress will accept the painful cutbacks, slowdowns, and outright cancellations required.
Both Republicans and Democrats on the Hill have objected to taking money from military construction, which would impact readiness, military families, and home-state jobs.
By constantly shifting money to top priorities in both near-term readiness and long-term modernization, Army Secretary Mark Esper expects the Army to hit a critical turning point within the next four years, and barring any unforeseen crisis, the Army will reach its readiness goal by 2022.
Veteran and Military Business Owners Association, VAMBOA,