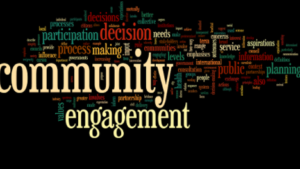 By James Pruitt, Senior Staff Writer
A visible presence in the community can do wonders to raise the profile of a small Veteran Owned Business. Engagement in community activities can imprint your brand into the minds of those around you and entrench your products or services into the hearts and minds of the most active citizens. Four strategies can help businesses integrate into the public sphere and make your brand synonymous with responsible public engagement.
First, consider the special contributions your business can make available. The best value comes from the optimal use of existing resources. Surplus goods can go to work as donations fundraisers, and these contributions can increase goodwill toward the company. Even special expertise can go to building new campaigns or initiatives. Redeployment of existing resources can not only ensure the maximum outcome for all parties but can effectively advertise the quality of the business for anyone involved in the charitable cause.
Along the same lines, businesses can solicit relationships with organizations that involve themselves in your business's field in the economy. Never undervalue your expertise. The relevance of your business provides huge value to nonprofits in your sector.
Perhaps you have a restaurant. Your restaurant can provide excess food to the homeless or even for catering events, assuming (importantly) the food is well-kept. As for non-perishables, items such as clothing can be embroidered into relevant t-shirts or even donated. The possibilities are endless for high-quality excess goods and services.
Second, consider input from employees. Each employee may have their own interests in the nonprofit sphere. Engagement with nonprofits can encourage engagement with employees as well. Every idea from an employee can bring your brand into a new sphere. Oftentimes, the employees' interests in the community can pose an educational opportunity that can even expand your brand.
Third, business owners should keep a strong gauge of customers' nonprofit concerns. Customers themselves might provide ideas and insights into community engagement. Entrepreneurs can strengthen goodwill among customers by chiming into their concerns. For this reason, business owners should always value customer feedback.
Fourth, remember your values and stick with them. Some companies might provide ethically made clothing brands, free from sweatshops or forced labor. Others might provide vegan or vegetarian food. Still, others may oppose religious persecution abroad. These companies have their nonprofit work cut out for them.
Still, other entrepreneurs have their own causes that energize them, outside of their own scope of business. Still, good karma follows from maintaining a presence year-long with favorite nonprofit initiatives. Just remember the above precepts and the resulting opportunities for associating your brand with your passions about the direction of your community.
In conclusion, business owners with community concerns can profit immensely from engagement with their favorite causes. Even placing excess inventory into the hands of community workers or charity recipients can serve an advertising purpose. Still, beyond that simple measure, the simple presence of your company's logo in a fundraising drive can serve a marketing function beyond warming your heart or the hearts of others. Wise engagement with community causes rarely has a downside. Veteran Business Owners should always remember the nonprofit sector no matter how successful their own ventures are.
VAMBOA, the Veterans and Military Business Owners Association hope that this article has not only been valuable but provided some unique perspective.  We work hard to bring you important, positive, helpful, and timely information and are the "go-to" online venue for Veteran and Military Business Owners.  VAMBOA is a non-profit trade association.   We do not charge members any dues or fees and members can also use our seal on their collateral and website.   If you are not yet a member, you can register here:  https://vamboa.org/member-registration/
We also invite you to check us out on social media too.
Facebook:  https://www.facebook.com/vamboa
Twitter:  https://twitter.com/VAMBOA
Do not forget that VAMBOA members receive significant discounts on technology needs.   Check them out here: https://vamboa.org/dell-technologies/