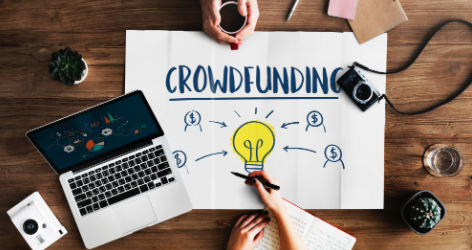 By Debbie Gregory.
If you need to raise money for your small business, there are several viable options available that are not your traditional bank loans.  One good one is Crowdfunding.    Crowdfunding easily allows a diverse set of people to invest in your business, idea, or project.
The Internet has many Crowdfunding sites and it can be confusing and challenging to find the right one to fit your needs.  VAMBOA staff has researched some of the best crowdfunding sites in 2020 and they are below in alphabetical order:
This platform is exclusively for non-profit or cause-based organizations and is focused at funding projects that help animals, the environment, or your community. This platform has funded approximately 8,000 campaigns which have collectively raised over $18 million dollars.
This platform's mission is to "bring original, useful, respectful hardware to life." So far over 70% of all projects on their site have been successfully funded and twice more than Kickstarter. Regardless of what business you are in, or what project you wish to bring to life, from a simple family recipe to a complicated electronic device, Crowd Supply can assist you in making your dream into a reality.
This platform offers equity crowdfunding that translates into selling shares of your company to accredited investors. Currently they boast a community of over 200,000 entrepreneurs and investors.   They have raised over $150 million dollars in capital to help any business from startups to Pre-Seed to Series A companies.
This platform's goal is funding scientific discoveries that "push the boundaries of knowledge." The main focus is to help scientists move away from university grants that have a high overhead cost of as much as 50 percent to 60 percent.
This platform offers two different programs. One option is for consumer businesses helps them raise capital for products, pre-orders, or selling merchandise. There is a $50,000 capital limit. The other is an equity program for products, services, or B2B business. This option allows the company to raise a huge range of from $50,000 to $10 million dollars.
This platform allows you to "raise money for anything" with zero raise requirements and zero startup fees involved. They will fund any project from personal health needs, to politics, and even vacations.
This platform is for raising money for a cause including a person, a group, or nonprofit.
This platform is perhaps one of the most widely known crowdfunding sites today.  You can raise money for anything you wish. The only stipulation is that you must meet your funding goal within the allotted timeframe. Otherwise the project is not funded, and the backers receive their funds back.  To date, they have helped well over 15 million people raise over $3.7 billion to successfully fund more than 143,000 projects.
This platform offers both live crowdfunding campaigns and a full marketplace for innovative products. They are the sister platform to the popular GoFundMe platform. With Indiegogo, you can also choose whether your backers receive equity, securities, revenue sharing, or even cryptocurrency. To date, they have helped entrepreneurs raise over $1 billion dollars to fund more than 650,000 projects.
This platform will connect a borrower with an investor for a personal loan of up to $40,000 dollars or business loans up $300,000 dollars. This one is really recommended for large, one-time expenses. The investor purchases a note that corresponds to a fraction of the loan in exchange for a solid return.
Patreon  (not to be mistaken with my favorite tequila, Patron)
This platform helps artists, musicians, writers, and other creative types obtain funds by running a membership business for their fans. The revenue comes from the fans paying a subscription fee in exchange for exclusive experiences and behind the scenes content.
This platform focused on any small business, from a small restaurant to tech startups. They currently have over 150,000 investors and campaigns can raise anywhere from $50,000 to $50 million dollars.
This platform is focused on high-growth, professional and early-stage companies to raise either preferred equity or convertible note funding.
Keep in mind that each of these platforms has a different pricing structure and different fees.   VAMBOA is not endorsing any of these Crowdfunding sites but providing information.  We encourage our audience to refer to please each platform's site for more information on what they charge to raise capital for your business or idea.
If you are not already a VAMBOA member, please consider joining.  There are not any fees or dues.    We will also provide you our seal to feature on your web site and collateral.  Here is a link to join:   https://vamboa.org/contact-us/