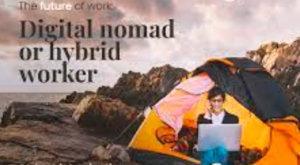 By James Pruitt, Senior Staff Writer
The Pandemic has given us the term "the New Normal." The new "work-from-home" paradigm also entails the term "Digital Nomad." Are "Digital Nomads" synchronous with "the New Normal?" Many define "Digital Nomads" as workers with the independence to produce anywhere, anytime. 
"The New Normal" developed at the outbreak of the Pandemic, only a year and a half ago, and provides workers the flexibility to work at home as necessary. "Digital Nomads" are nothing new. However, these "extreme" remote workers have seen their roles expand and develop considerably during this period.
A few small countries have even started allowing "digital nomad" visas for workers who want to "work in paradise." These countries include Bermuda, Mauritius, and Montserrat, as well as several European countries. But is a "digital nomad" really the same as a hybrid worker? Let's flesh this out.
Who are Digital Nomads?
"Digital Nomads" live out-of-reach of their office headquarters. Younger workers, as well as retirees, have increasingly adopted these arrangements. Many employers have decided to focus on output rather than "presenteeism" Such arrangements have even become more common indirect employer-employee relationships, and are no longer the sole domain of freelancers and casual workers.
Communication Issues
Such an arrangement could be perfect for many business relationships. Other relationships, not so much. Good candidates for "digital nomads" may include creative workers using their own resources, as well as positions with limited client contact. Such "extreme" remote positions should allow relative independence from management. 
"Digital nomads" are not people who need detailed instruction in office processes. Oftentimes, such workers are creative workers who function successfully as their own mobile small businesses. Workers who might need to be called into the office periodically are not good candidates for "remote work visas."
For example, in some cases, an employer may require a worker's presence in an in-person client meeting. Successful employers and contractors foresee these demands before committing to arrangements such as, for example, procurement of a remote work visa.
Security Issues
Employers should consider possible security breaches when considering the scope of remote relationships. Some workers may have access to secure information. These workers may need a closer relationship with their home base. For example, each device containing secure information presents a security risk. Assuming the presence of sensitive information, loose monitoring of such devices is bad practice.
Expenses for Remote Work Visas
A visa for "working in paradise" generally costs several hundred dollars for the visa itself as well as proof of income. "Paradise" can include diverse remote island countries as well as several European countries including Germany, Portugal, Iceland, and Croatia. Each country offers its own price for the visa itself, in addition to income thresholds levels to prove robust links with the employer.
"Hybrid Workers" versus "Digital Nomads
Business owners should distinguish between workers who might qualify for "hybrid roles" and workers who might become full-blown "Digital Nomads." "Digital Nomads" can work in far remote locations with no physical contact with management. The employee's role should be established and meticulously carved out before initiating an entirely remote arrangement. 
VAMBOA, the Veterans and Military Business Owners Association hopes that this article has not only been valuable but provided some unique perspective.  We work hard to bring you important, positive, helpful, and timely information and are the "go to" online venue for Veteran and Military Business Owners.  VAMBOA is a non-profit trade association.   We do not charge members any dues or fees and members can also use our seal on their collateral and website.   If you are not yet a member, you can register here:  https://vamboa.org/member-registration/
We also invite you to check us out on social media too.
Facebook:  https://www.facebook.com/vamboa
Twitter:  https://twitter.com/VAMBOA
Do not forget that VAMBOA members receive significant discounts on technology needs.   Check them out here: https://vamboa.org/dell-technologies/