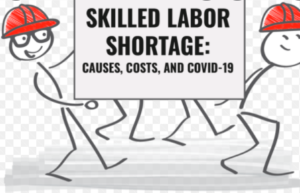 By James Pruitt, Senior Staff Writer
Who knew? Labor and supply shortages are creating havoc and cursing small businesses now more than ever, especially in the wake of reopening. Behemoths such as Amazon and Walmart have their safety nets. Smaller establishments must struggle with what they have. As a result, gaps in service plague the reputations and growth of their smaller counterparts.
Unfortunately for Veteran Business Owners, the Bureau of Labor Statistics reported 8.1 million job openings at the end of March, a new record. The pandemic only exacerbated a preexisting trend, and the reasons vary. 
Suggestions have included a lack of training opportunities, supercharged unemployment benefits, a mismatched skill set, and fear due to the pandemic for many. Whatever the cause, a shortage of qualified workers has left employers in the lurch despite a continuously shrinking workforce.
Gaps in service are a result, often leaving angry customers. This anger often shows up online. These days, an online presence can make or break a company. Angry reviews can pose real threats to a struggling business.
The trend nowadays is for buyers overwhelmingly to check their business' online presence. How can business owners minimize angry diatribes on forums such as Yelp, Bing, Google My Business, and Facebook? Small employers are finding themselves trapped between the rock of the labor shortage and the hard place of customer satisfaction. The best short-term fix is better communication.
Business owners should build trust with their client base. Patrons should understand that they can work with the management of a company. These kinds of positive working relationships best protect smaller businesses from online reputational issues, which may leave business owners feeling helpless in their marketing efforts. Good working relationships often rest on a foundation of good communication, one of the variables that managers may control in this economic environment.
Methods of communication may vary. Updating profiles on relevant online business platforms is an easy first step. The business's profiles on the above online platforms should provide up-to-date hours and terms of service. When possible, these sites should also include explanations for any changes in these terms. Additionally, a business owner should address any negative reviews directly as soon as possible.
Some verbal strategies can improve the outcome of discussions with a dissatisfied customer. For example, first, the person in charge should remain calm during a confrontation. Second, active listening can demonstrate that the manager understands the grievance.  Active listening methods generally emphasize engagement in the discussion. In other words, managers should not remain passive targets in these matters. One such technique may involve rephrasing the complaints in a manner that demonstrates a genuine understanding of the customer's issues with their service. 
Finally, management should demonstrate their understanding of the weight of the problem and if possible, let the customer know the relevant steps for resolving such issues in the future.
Early communication with dissatisfied customers may prevent escalation or even an angry Yelp review. Overall, the goal is a synergy between the needs of the client and the capacities of the owner. During these novel times, business owners should engage any necessary communication techniques to achieve a meeting of the minds that leaves all parties satisfied and at peace.
VAMBOA, the Veterans and Military Business Owners Association hopes that this article has not only been valuable but provided some unique perspective.  We work hard to bring you important, positive, helpful, and timely information and are the "go to" online venue for Veteran and Military Business Owners.  VAMBOA is a non-profit trade association.   We do not charge members any dues or fees and members can also use our seal on their collateral and website.   If you are not yet a member, you can register here:  
https://vamboa.org/member-registration/
We also invite you to check us out on social media too.
Facebook:  https://www.facebook.com/vamboa
Twitter:  https://twitter.com/VAMBOA
Do not forget that VAMBOA members receive significant discounts on technology needs.   Check them out here: https://vamboa.org/dell-technologies/