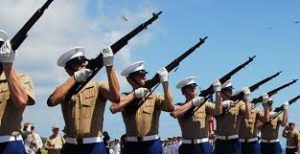 The 21 Gun Salute Initiative Benefiting SDVOSBs
By Debbie Gregory.
The Department of Defense (DoD) has made efforts to improve the prime and subcontracting opportunities available to small businesses owned and operated by service-disabled veterans.
As a Service-Disabled Veteran Owned Small Business (SDVOSB), you can access many opportunities in the federal market. The 21 Gun Salute initiative was created with gratitude for the injured soldier turned businessperson. The Salute is an action plan to meet and exceed the 3% contracting goal with the nation's service-disabled veteran-owned small businesses  
The program, which has been in existence for more than a decade, contains seven main topics, or "guns", complete with major sub-goals.
Gun #1 – The first gun is Awareness, and is designed to increase public awareness, internal awareness and identify SDVOSBs to provide high demand products and services.

Gun #2 – The second gun is Advocacy, which creates a Veterans Advisory Subcommittee to advocate for SDVOSB opportunities, with a special emphasis on Veteran set-asides. It also works to create a pool of advocates among buyers within GSA.

Gun #3 – The third gun is Innovation, which capitalizes on best practices for SDVOSB outreach, targets SDVOSBs for selected schedule buys, and finds innovations in financial accreditation of small business

Gun #4 – The fourth gun is Training and involves assisting SDVOSBs in finding markets and providing SDVOSB training to contracting officers government wide.

Gun #5 – The fifth gun is Recognition. This is a shout-out to SDVOSB supporters, and an acknowledgement of the successes among internal GSA family, enhancing the SDVOSB brand.

Gun #6 – The sixth gun is Accountability. This gun holds senior leaders accountable, measures and enforces SDVOSB goals to ensure achievement, and integrates procurement forecasts.

Gun #7- The seventh and final gun is Partnerships, which supports business-to-business partnerships among SDVOSBs, as well as interagency partnerships, such as with the SBA and the VA, and partnerships with veterans organizations.
If you are interested in learning more about the 21 Gun Salute initiative, visit the General Services Administration website at https://bit.ly/2T3zWUe.
Veteran and Military Business Owners Association, VAMBOA,