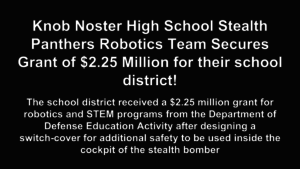 By Debbie Gregory.
By Debbie Gregory.
Students from Knob Noster High School near Whiteman Air Force Base, Missouri are being credited for designing an integral spare part that is now onboard all operational B-2 Spirit Bombers and aircraft simulators at Whiteman.
Using a 3-D printer, the "Stealth Panthers" robotics team at the high school created plastic covers for an important switch box inside the B-2 that can prevent possible in-flight emergencies, according to the Air Force.
Pilots had been mentoring robotics team members on other projects. As a result of that partnership, Brig. Gen. John Nichols, the 509th Bomb Wing commander, was curious if the students could come up with a solution for a switch cover.
The team worked with pilots and engineers last fall to create and test the 3D-printed prototype in a B-2 Spirit training simulator. The part prevents the inadvertent flip of an important switch that pilots use that will essentially turn off the generator and hydraulics but keep the engine on.
The plastic cover attaches to the switch panel with Velcro and protects the switches from being accidentally flipped, base officials said. Although the switches aren't easily flipped, inadvertently doing so could be catastrophic. Each cover is marked with a control number; pilots are assigned one when they step into the aircraft and return it at the end of the mission. 
"The B-2 Spirit cockpit is equipped with state-of-the-art, cutting-edge technology, but is a very cramped space, so something was needed to keep the pilots or other items from bumping into the switches," said Capt. Keenan Kunst, a base spokesman. "The students were able to help us find a solution that was quick, affordable and effective." The covers cost about $1.25 to produce.
Base officials were surprised at how quickly and efficiently the students produced something.
"Seventy-two hours after the initial design concept, the robotics team 3-D printed a cover for four important switches in the $2.2 billion aircraft," Nichols mentioned in a base statement.
The school district received a $2.25 million grant for robotics and STEM programs from the Department of Defense Education Activity. About two-thirds of the district's 1,600 students are connected to Whiteman.
Veteran and Military Business Owners Association, VAMBOA,