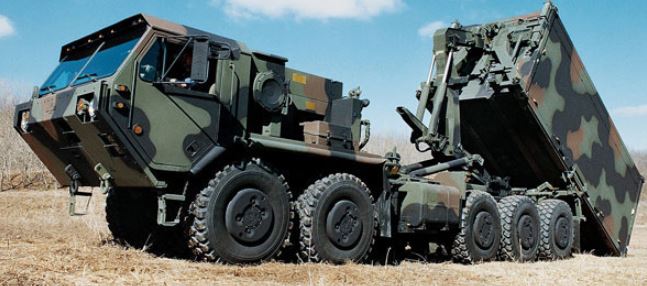 By Debbie Gregory.
The U.S. Army's search for a Joint Light Tactical Vehicle (JLTV) replacement is over. The Oshkosh Corporation, formerly Oshkosh Truck, more about has won the $6.75 billion contract to build almost 17,000 new light trucks. The new vehicles will replace the Army and Marine Corps' aging Humvees.
Wisconsin-based Oshkosh Corp. beat out both Lockheed Martin Corp. and AM General LLC.
The order will result in the production of as many as 55,000 JLTVs over the next 25 years.
Founded in 1917 as the Wisconsin Duplex Auto Company, the company was created to build a severe-duty four-wheel-drive truck before moving into the military vehicle arena.
In 1945, the company received the first of many military honors when the "E" award is presented by the Army and Navy for excellence in wartime production. In 1953, the first Aircraft Rescue and Firefighting (ARFF) vehicle was delivered to the U.S. Coast Guard. In 1968, the MB-5 manufactured for the U.S. Navy and mainly used for flight deck firefighting, launched the company into a position of world leadership in the ARFF industry.
Over the years, the company has built other military vehicles, such as the Heavy Expanded Mobility Tactical Trucks, the P-19 ARFF, the R-11, and the MTVR.
The new trucks will replace many of the 120,000 Humvee trucks built by AM General that have been worn out by use in Iraq and Afghanistan. The updated design promises greater protection against mines and roadside bombs, as well as more range and durability to move troops and gear. They are also lighter than the Mine-Resistant Ambush-Protected vehicles introduced in Iraq.
News of the contract resulted in a 12% jump in the company's stock.
VAMBOA proudly serves all Veteran and Military Business Owners.