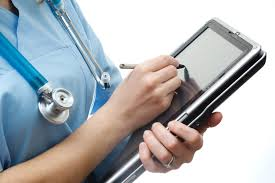 By Debbie Gregory.
Having electronic health records vs. previous hard copy records will go a long way in saving money, time, and lives.
After a two year search, the Defense Department awarded a $4.3 billion contract to Leidos, Inc.
Previously known as Science Applications International Corporation, Leidos is an American company headquartered in Reston, Virginia. The company provides scientific, engineering, systems integration, and technical services.
The new contract will cover more than 9.5 million Defense Department beneficiaries and the more than 205,000 care professionals who provide them with support.
Dr. Jonathan Woodson, assistant secretary of defense for health affairs, called electronic health records "a critical enabler for supporting and maintaining medical readiness" around the world. The new system is global, and must operate in remote places like Afghanistan, in addition to DoD's 55 hospitals and more than 600 clinics, according to Woodson.
"Even apart from the wartime requirements, the patients we serve are frequently on the move, as are our caregivers, so it is very important to have a highly integrated system that is portable to serve the needs wherever they may be required," he said.
The DoD and the VA are interoperable now, said Undersecretary of Defense for Acquisition, Technology and Logistics Frank Kendall, but this contract ensures it will continue by including future software upgrades.
Training is also included in the contract, he said.
"The trick … in getting a business system fielded isn't about the product you're buying, it's about the training, the preparation of your people, it's about minimizing the changes to the software that you're buying," Kendall said. "We've done a lot of work to ensure that our users … are prepared to take on this product and use it."
The next big hurdle is testing the software to ensure it is secure and does what is needed. This will be carries out at eight locations in the Pacific Northwest late next year. Ultimately, the system will be fielded at more than 1,000 locations worldwide. The cost over 18 years was placed at $11 billion, but new figures suggest the ultimate cost will be below $9 billion, Kendall said.
The Veteran and Military Business Owners Association (VAMBOA) is a non-profit business trade association that promotes and assists Veteran Business Owners, Service Disabled Veteran Owned Businesses (SDVOB) and Military Business Owners. Small businesses are the backbone of our economy and responsible for job generation. That is why VAMBOA provides its members with Business Coaching, Contracting Opportunities, a Blog that provides information, Networking contacts and other resources. Membership is FREE to Veterans. Join Now!
Leidos, Inc Wins DoD Contract: VAMBOA: By Debbie Gregory