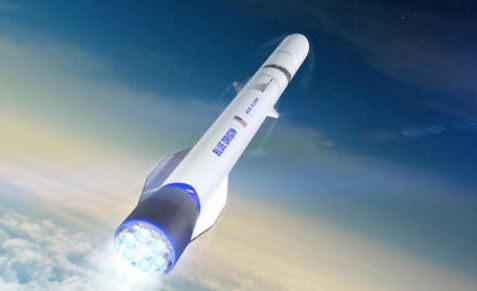 By Debbie Gregory.
The U.S. Air Force announced the award of three Evolved Expendable Launch Vehicle (EELV) Launch Service Agreements to Blue Origin, Northrop Grumman Innovation Systems, and United Launch Alliance.
The $500 million award to Blue Origin will be for development of the New Glenn Launch System. The $792 million award to Northrop Grumman Innovation Systems is for development of the OmegA Launch System. The $967 million award to United Launch Alliance will be for development of the Vulcan Centaur Launch System.
The Defense Department has the option to narrow it to two companies no later than 2020 that will then compete for future launches.
Blue Origin was awarded for the preliminary work and will build its New Glenn Launch System.
Northrop Grumman Innovation Systems will manufacture its OmegA Launch System.
United Launch Alliance, which is a joint venture between Lockheed Martin and Boeing, will develop its Vulcan Centaur Launch System.
With the Congressional mandate to transition away from reliance on foreign rocket propulsion systems, and the planned Delta IV retirement, the Air Force developed an acquisition strategy to accelerate National Security Space launch requirements.
"Our launch program is a great example of how we are fielding tomorrow's Air Force faster and smarter," said Air Force Secretary Heather Wilson in a statement. "We're making the most of the authorities Congress gave us, and we will no longer be reliant on the Russian-built RD-180 rocket engine."
"Leveraging domestic commercial space launch systems is good for the Air Force, and a revitalized commercial launch industry is good for the taxpayer," Wilson added.
While the prototypes are being developed, the Air Force will continue to competitively award commercial launch services contracts to providers who demonstrate the capability to design, produce, qualify and deliver launch systems and provide the mission assurance support required to deliver National Security Space satellites to orbit.
"I'm excited to announce these creative partnerships that directly support the Air Force's strategy to drive innovation and leverage commercial industry," said Dr. William Roper, Assistant Secretary of the Air Force for Acquisition, Technology, and Logistics. "These awards are a leap forward in space launch capabilities, ensuring continued U.S. dominance in space," Roper added.