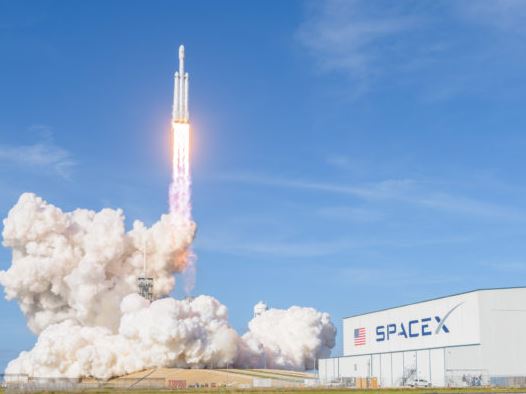 By Debbie Gregory.
The U.S. Air Force has awarded the contract to carry its national security satellites to SpaceX.
The $130 million firm-fixed price contract for evolved expendable launch vehicle (EELV) services will utilize SpaceX's Falcon Heavy rocket to deliver Air Force Space Command's 52 satellite, known as AFSC-52, into orbit.
Scheduled for late 2020, the launched will originate from the Kennedy Space Center, Florida.
SpaceX had to demonstrate the capabilities of its Falcon 9 rocket several times before the Air Force certified that launch vehicle, but military officials apparently acquired enough data from the Falcon Heavy's single launch and the Falcon 9's track record to give their go-ahead for AFSPC-52.
SpaceX's first Falcon Heavy launch went viral when the payload consisted of launching Elon Musk's personal Tesla Roadster sports car into a solar orbit past the reach of Mars, far below the payload capacity of 63.8 metric tons.
Work on the project will be performed in Hawthorne, California; the Kennedy Space Center; and McGregor, Texas.
The launch will support the Air Force Space Command's "mission of delivering resilient and affordable space capabilities to our nation while maintaining assured access to space," Lt. Gen. John Thompson, Air Force program executive officer for space and commander of the Space and Missile Systems Center.
"On behalf of all of our employees, I want to thank the Air Force for certifying Falcon Heavy, awarding us this critically important mission, and for their trust and confidence in our company," said SpaceX President Gwynne Shotwell. "SpaceX is pleased to continue offering the American taxpayer the most cost-effective, reliable launch services for vital national security space missions."
SpaceX's first substantial military contract was awarded in 2016, when the Air Force tapped Elon Musk's company to launch a GPS III satellite aboard its Falcon 9 rocket. SpaceX was the sole bidder for the launch.