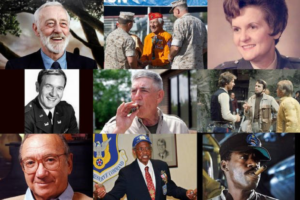 By Debbie Gregory.
I thought it might be nice to recognize the passing on some famous Veterans that Passed Away in 2018. They served our nation and we need to remember all those who we have lost.
• Anna Mae Hays, who died in January at age 97, was a career officer in the U.S. Army Nurse Corps. Her breakthrough ascent to become America's first female general officer began when Hays served as an Army nurse in malaria-infested jungles during World War II.
• Keith Max Jackson was an American sports commentator, journalist, author and radio personality, known for his career with ABC Sports. He served as a mechanic in the Marine Corps. Using his GI Bill, he attended Washington State University, starting as a political science major but soon moving over to broadcasting and graduating in 1954 with a degree in speech communications. He died in January at the age of 89.
• John Mahoney, a British-born actor who emigrated to the United States and enlisted in the U.S. Army in order to become a U.S. citizen, died in February at the age of 77. Mahoney was best known for his role as Martin Crane in the sitcom Frasier. The show ran for 11 seasons between 1993 and 2004.
• Floyd Carter Sr., one of the last of the Tuskegee Airmen, dedicated his life to service. The decorated veteran of three wars and 27 years with the NYPD died in March at age 95, leaving a long legacy as a groundbreaking hero pilot and a city police detective. In 2007, Carter was awarded the Congressional Gold Medal by President Bush for breaking the color barrier in Tuskegee.
• Roy Hawthorne Sr., one of the most recognizable Navajo Code Talkers, died in April at the age of 92. He was one of the most active members the Navajo Code Talkers Association. Like others who served as Code Talkers, Hawthorne took the vow of silence seriously and never told anyone what he did in the war until 1968, when the use of the Navajo language as a code was declassified. "I never even told my family about it until we were told it was all right," Hawthorne said in a 2010 interview.
• R. Lee Ermey was an American actor, voice actor and Marine Corps drill instructor. He achieved fame when he played Gunnery Sergeant Hartman in the 1987 film Full Metal Jacket, which earned him a Golden Globe Award nomination for Best Supporting Actor. Ermey passed away in April at age 74.
• Art Paul, the man responsible for Playboy's famous logo, served during World War II with the Army Air Corps. Upon leaving the military, Paul became a freelance illustrator and Playboy magazine's first employee in the 1950s. He said he crafted the bunny logo in about an hour. Pail died in April at the age of 93.