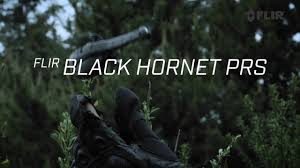 Photo Credit: FLIR Black Hornet Drone
By Debbie Gregory.
The U.S. Army has placed an order with FLIR Systems Inc. for $39.6 million worth of the company's Black Hornet Personal Reconnaissance System (PRS) drones. The Army is procuring these units as part of its Soldier Borne Sensor (SBS) program.
The nano-unmanned aerial vehicle (UAV) resembles a tiny helicopter and flies almost silently. The electro-optical and infrared (EO/IR) technology bridges the gap between aerial and ground-based sensors, with the same threat location capabilities of unmanned ground vehicles. The Black Hornets are extremely light, nearly silent, and have a flight time up to 25 minutes.
The PRS gives soldiers the capability of using the onboard camera to look around corners in urban areas or recon unfamiliar terrain, and can transmit live video and HD still images back to the operator.
"We are proud to be selected by the U.S. Army for the SBS Program of Record; this contract represents a significant milestone with the operational large-scale deployment of nano-UAVs into the world's most powerful Army," said Jim Cannon, president and CEO of FLIR Systems.
To date, FLIR has delivered more than 8,000 Black Hornet nano-UAVs around the world.
"This contract is a major win for the newly established Unmanned Systems & Integrated Solutions business division at FLIR and demonstrates the strong and urgent demand for nano-UAV technology offered by FLIR. Protecting U.S. warfighters with our unmanned solutions is a key objective for FLIR," Cannon added.
The company has announced plans to expand its Unmanned Aerial System (UAS) service and repair center in Somerset, Kentucky, to meet the demand for UAS support.
FLIR continues to gain importance as a major military supplier, with an additional $29.7 million Army contract for Chemical, Biological, Radiological, and Nuclear Dismounted Reconnaissance Sets and related Kits and Outfits (CBRN DR-SKO) systems in a five year deal. Production for this order will continue to be performed out of FLIR's facility in Elkridge, Maryland.
Veteran and Military Business Owners Association, VAMBOA,