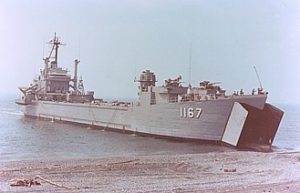 By Debbie Gregory.
By Debbie Gregory.
A federal court has ruled that "blue water" Navy veterans who served on ships offshore during the Vietnam war are eligible for benefits to treat illnesses linked to exposure to the chemical herbicide Agent Orange.
The Court of Appeals for the Federal Circuit ruled 9-2 in favor of Alfred Procopio, Jr., 73, who served on the USS Intrepid during the Vietnam War. Procopio is one of tens of thousands of "Blue Water" Navy veterans who served aboard aircraft carriers, destroyers and other ships and were deemed ineligible for the same disability benefits as those veterans who served on the ground and inland waterways.
At issue was interpretation of the current law, which allows easier access to disability benefits for veterans who "served in the Republic of Vietnam." The court determined territorial seas should be included in the definition of "Republic of Vietnam", a point the government disputed.
Under current VA rules, the blue water veterans could receive medical care for their illnesses through VA, but not disability benefits without proving that their ailments were directly connected to toxic exposure while on duty.
The boots on the ground Vietnam veterans were provided disability benefits because it was presumed they had been exposed to Agent Orange and other defoliants known to cause serious and rare cancers.
The new ruling states that the Department of Veterans Affairs (VA) cannot deny disability benefits to thousands of Vietnam veterans simply because they served in the waters off the country's coastline, and not inland.
The VA officials had taken the stance that scientific evidence didn't justify the presumption of toxic exposure for the group. But the decision by the U.S. Court of Appeals for the Federal Circuit overturns past court opinions backing up VA, saying that Congress never intended to exclude servicemembers in the seas around Vietnam.
If, in the next 90 days, VA officials do not appeal the decision to the Supreme Court, up to 90,000 blue water veterans could see disability payouts as early as this year.
Veteran and Military Business Owners Association, VAMBOA,