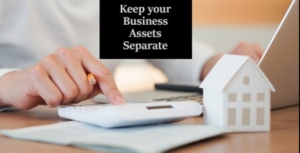 By James Pruitt, Senior Staff Writer
Anyone can start a small business. As your business grows, you may absorb greater liabilities. Soon enough, operations may complexify. At some point in this process, your procedures should account for the unforeseeable. Natural disasters may occur, as well as conflicts with customers or even with the court system. At this point, before you know it, your own assets may be at risk.
From the beginning, the best safeguard is a good records system. Even with your first small Etsy transactions, your standardized procedure for recording the most casual purchases may still hold credibility with a variety of governmental bodies, including unemployment and other administrative tribunals, should conflicts arise. 
Remember, as the demands on your new business turn more hectic and bustling, separation of your own assets from those of your business becomes more crucial. 
Different Business Entities
Fortunately, transforming your business into any one of several legal corporate entities may keep this oil and water separate, in order to simplify matters when complexities arise.
As your business develops, the business may shape-shift so that the institution should split from the ownership. After this split, creditors can no longer reach the private assets of the ownership. 
Incorporation can close a veil between the business and the ownership. The separation between ownership and operation allows fair accounting in situations where new stakeholders come into the picture, or situations complicate themselves beyond the owner's ability to manage. 
Different kinds of incorporation may include registration as an S or C corporation or an LLC, or "limited liability company," which often protects a business when multiple stakeholders drive the business's direction. S corporations are most popular among small businesses because of the tax benefits.
Many small, home-based companies often don't bother to take such measures. Incorporation may require annual fees, as well as differing taxation requirements. Some businesspeople may not find either incorporation or registration as an LLC worth their while. They may feel the corporate body itself may transform into an unwieldy entity not worth the benefits from the business endeavor itself. Either choice is valid. However, business incorporation does provide many tax advantages as well as protection from creditors, absent extenuating circumstances.
Business Insurance 
Incorporation with the state is not the only way to protect private assets. Several types of business insurance provide additional protection beyond a strong corporate veil between the owner and the institution itself. Business insurance diverges into countless varieties including business interruption insurance, property insurance, and workplace compensation insurance, as well as many more. Many sorts of business insurance protect against sudden disasters and accidents 
Remember Your Plan B
Even outside your business proper, your underlying skills may serve you as a freelancer. Business owners may freely utilize their talents outside their LLC or registered corporation. Additionally, freelance work often serves as a contingency plan when the main enterprise sputters. Remember that even in the worst-case scenario, no one can take away your talents and skills.
The Bottom Line
Fairness dictates the separation of a business itself from the assets of the owners in many situations. The operations of a business may bring in additional stakeholders whose missteps may drive the corporate direction wayward, and often, unforeseeable problems should stay within the corporate confines. Regardless of the type of corporate structure, entrepreneurs should prepare for sudden business problems to stay business problems whenever possible, and not immediately cause the ruin of hearth and home.
VAMBOA, the Veterans and Military Business Owners Association hope that this article has not only been valuable but provided some unique perspective.  We work hard to bring you important, positive, helpful, and timely information and are the "go-to" online venue for Veteran and Military Business Owners.  VAMBOA is a non-profit trade association.   We do not charge members any dues or fees and members can also use our seal on their collateral and website.   If you are not yet a member, you can register here:  https://vamboa.org/member-registration/
We also invite you to check us out on social media too.
Facebook:  https://www.facebook.com/vamboa
Twitter:  https://twitter.com/VAMBOA
Do not forget that VAMBOA members receive significant discounts on technology needs.   Check them out here: https://vamboa.org/dell-technologies/