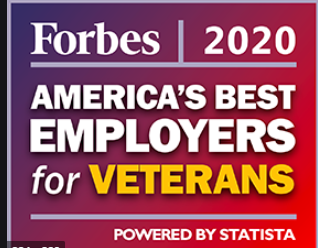 Companies now "get it" and realize the value that Veterans bring to the their companies.  This has increased their recruitment offers for Veterans.  Recruiting Veterans also hits many of the boxes for Diversity and Inclusion.   As a result the jobless rate for Veterans has decreased significantly, less than half from 6.6 percent in 2013 to 3.1 percent in 2019 (pre-Covid).
We think that this list might be an asset to Veteran Small Business Owners that more often than not, hire Veterans when they are looking to add employees.
Forbes in partnership with the market research firm, Statista surveyed more than 5,000 United States Veterans who served including National Guard and Reserves.  All of those survey work either full or part time for over 1,000 employers.   The survey was conducted from March, 2020 to June June, 2020.  It asked respondents to evaluate their employers' working conditions and approach to diversity and inclusion as well as whether their environment is veteran-friendly.  Below is a list of the Best Employers.   On a personal note, a company in my own county, Harbor Freight Tools in Camarillo, California (located in Ventura county) came in first.
Some additional factors to consider in this survey are that men outnumbered women in Forbes' survey, a reflection of the predominance of men in the armed forces, and a substantial percentage of respondents, 40%, held upper management positions. Some 8% of veterans said they worked in the aerospace and defense industry, compared to 2.7% of respondents for Forbes' 2019 list of America's Best Employers.
On a personal note, I want to add a few companies that I personally know values, hires, and invests in Veteran Employees.  Johnson and Johnson not only hire Veterans but has an entire department to provide resources as does Dell Technologies.   VAMBOA salutes all these Veteran Friendly companies.
Below is the Forbes full list of the 150 Best Employers for Veterans:
AMERICA'S BEST EMPLOYERS FOR VETERANS 2020 LIST
Rank
Name
 
1
Harbor Freight Tools
2
Northeastern University
3
Procter & Gamble
4
Fidelity Investments
5
Booz Allen Hamilton
6
United Services Automobile Association (USAA)
7
O'Reilly Auto Parts
8
VMware
9
Edward Jones
10
Xcel Energy
11
Southwest Airlines
12
1st Source Bank
13
Publix Super Markets
14
CACI International
15
Vanguard
16
Texas Roadhouse
17
Janney
18
Abbott Laboratories
19
H-E-B
20
Froedtert Health
21
Department of the Treasury
22
Intel
23
Methodist Health System (Nebraska)
24
TTEC
25
Citigroup
Rank
Name
26
Social Security Administration
27
American International Group
28
Burns & McDonnell Engineering
29
Cass Information Systems
30
BAE Systems
31
Lockheed Martin
32
Michelin Group
33
Apple
34
Re/Max
35
Department of the Interior
36
Choice Hotels International
37
Coldwell Banker
38
Lee Memorial Health System
39
NTT Data
40
TD Bank
41
Henry Ford Health System
42
American Tower
43
Brunswick
44
Bank of America
45
Ball
46
NASA
47
State of Arkansas
48
Avera
49
SpaceX
50
CDW
Rank
Name
51
State Farm
52
Boeing
53
OhioHealth
54
Southern Company
55
Delta Air Lines
56
Humana
57
Sutter Health
58
Hartford HealthCare
59
DaVita
60
Jeld-Wen Holding
61
Affiliated Managers Group
62
Insight Enterprises
63
Fidelity National Financial
64
Hilton
65
Intercontinental Hotels Group
66
Canon
67
Saia
68
Accenture
69
AutoZone
70
24 Hour Home Care
71
Western Governors University
72
Salvation Army
73
Prudential Financial
74
Ameriprise Financial
75
Ochsner Health System
Rank
Name
76
Samsung Electronics
77
Smithfield Foods
78
University of Alabama
79
Walt Disney
80
Tesla
81
Home Depot
82
Ford Motor
83
Deloitte
84
PG&E (Pacific Gas and Electric)
85
Centers for Medicare & Medicaid Services
86
Microsoft
87
PSEG (Public Service Enterprise Group)
88
Truist Financial
89
Autodesk
90
First Financial Bank
91
Amazon
92
DHS – Department of Homeland Security
93
UCHealth
94
Ally Financial
95
SAIC
96
Huntington Ingalls Industries
97
JetBlue Airways
98
Cisco Systems
99
U.S. Courts
100
Camping World Holdings
Rank
Name
101
Zurich Insurance Group
102
Nike
103
Mercy
Healthcare & Social
104
BASF
Construction, Oil & Gas

Operations, Mining and Chemicals

105
Goodyear
Automotive (Automotive

and Suppliers)

106
Sherwin-Williams
Construction, Oil & Gas

Operations, Mining and Chemicals

107
Northrop Grumman
Aerospace & Defense
108
American Systems
IT, Internet, Software &

Services

109
Nissan Motor
Automotive (Automotive

and Suppliers)

110
Des Moines Public Schools
Education
111
National Grid USA
Utilities
112
U.S. Department of Justice
Government Services
113
Google
IT, Internet, Software &

Services

114
ExxonMobil
Construction, Oil & Gas

Operations, Mining and

Chemicals

115
United Airlines
Transportation and

Logistics

116
DCH Health System
Healthcare & Social
117
HSBC Holdings
Banking and Financial

Services

118
IBM
IT, Internet, Software & Services
119
Osceola County
Government Services
120
Loews Hotels
Travel & Leisure
121
Becton Dickinson
Health Care Equipment &

Services

122
General Dynamics
Aerospace & Defense
123
Aerojet Rocketdyne
Aerospace & Defense
124
DTE Energy
Utilities
125
Jacobs
Technology Solutions

Provider

Rank
Name
Industries
126
Waste Management
Utilities
127
Marriott International
Travel & Leisure
128
Wyndham Destinations
Travel & Leisure
129
L3Harris Technologies
Aerospace & Defense
130
Lennar
Construction, Oil & Gas

Operations, Mining and

Chemicals

131
PNC Financial Services
Banking and Financial

Services

132
Advocate Health Care
Healthcare & Social
133
Saputo Cheese
Food, Soft Beverages,

Alcohol & Tobacco

134
3M
Packaged Goods
135
Ascension
Healthcare & Social
136
Mohawk Industries
Engineering,

Manufacturing

137
JPMorgan Chase
Banking and Financial

Services

138
Apollo Retail
Business Services &

Supplies

139
Designer Brands
Clothing, Shoes, Sports

Equipment

140
School District of Osceola County
Education
141
Virginia Polytechnic Institute and State University
Education
142
Roche Holding
Drugs & Biotechnology
143
NextEra Energy
Utilities
144
National Vision Hldgs
Health Care Equipment &

Services

145
Accounting Principals
Professional Services
146
General Motors
Automotive (Automotive

and Suppliers)

147
Caterpillar
Engineering, Manufacturing
148
Navy Federal Credit Union
Banking and Financial

Services

149
Office of the Director of National Intelligence (ODNI)
Government Services
150
Bosch
Engineering,

Manufacturing