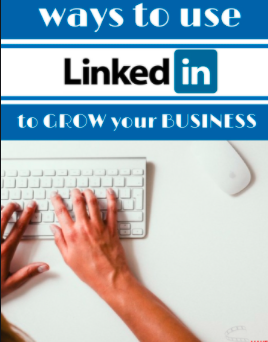 By Debbie Gregory.
The mission of LinkedIn is to connect the world's professionals to make them more productive and successful.  Over the last few years LinkedIn has grown to be one of the most widely used social platforms for business. It is currently the third most popular social site, right behind Facebook and Twitter. If you are not yet on LinkedIn, you are missing out on a huge audience for your recruiting efforts, business networking, and potential new customers.Below is some information on ways to use LinkedIn to expand your Small Veteran Owned Business:
1.) Craft your Profile and Pages with SEO in Mind:
LinkedIn is a valuable source for business to business (B2B) marketing and other business-related connections. As with your website or blog, your LinkedIn profile and pages should be optimized for SEO purposes.
Areas of Focus:
Include a title along with your last name in the name field. For example, instead of listing just Jill Brown, make changes to it reads: Jill Brown, Sales Professional. In this manner, Jill Brown's profile will pop up when someone performs a search for a salesperson.
Add keywords to your headline too and not simply your title. For example, instead of Sales Professional list something such as "No. 1 sales professional in the city of Portland for the last 3 years."
Make sure to include other keywords in your summary in a more natural fashion. Yes, LinkedIn has a specific place in your profile to list up to 50 skills (make sure to ask for recommendations on your skills too) but you should also try to pepper them into your summary text.
2.) Make Sure to Create and Optimize a Page Dedicated to Your Company:
A business page on LinkedIn is a powerful marketing tool. Make sure that your business is easy to find on LinkedIn and that all visuals on your page match the look and feel of your other online presences (website or other social channels).  Additionally, keep it up to date with regular posts!
Basics for your page:
A concise, yet engaging, company description and overview.
Your company logo.
An attractive banner image.
A call to action.
3.) Put Together Showcase Pages for Products or Services:
Once you have your business page ready to go, you should consider adding showcase pages for specific products, services, or separate arms of your core business to help users better find you and engage with the parts of your business that most interest them.
4.) Promote Your Page:
Your page will not help your business grow if no one is looking at it! Once your page, and showcase pages are setup to be robust, and compelling, your next step is to promote it and gain followers. Of course, you can simply run paid ads on the platform to boost your visibility, however, there are other ways to promote your page that will not cost you anything.
Free Ways to Promote Your Page:
Add the page to your own LinkedIn profile.
Add a "follow" button to your main website to drive traffic from there to your LinkedIn page.
Promote the new page(s) in your company newsletter, blog posts, and other social media pages.
Add a link to your LinkedIn page in your company email signature.
Ask current employees to promote the page on their own LinkedIn profiles.
5.) Join LinkedIn Groups or Create Your Own Group:
LinkedIn groups are intended to connect like-minded individuals and similar businesses with one another to foster camaraderie and to expand knowledge. You can join existing groups and actively engage in conversations.  You may also create your own group to help establish yourself as an expert in your industry. We strongly recommend that you consider both options to make sure that you are active in the group and provide valuable tips and add robust posts.
As you can see from the information in this blog post, LinkedIn offers a variety of ways for businesses to network, market themselves, and connect with new customers. These are just a few of the ways to join in and start reaping the benefits of LinkedIn for your business.   One last kernel of information, a regular account on LinkedIn is free.  They also offer premium accounts at a reasonable cost.   Start your engines and join LinkedIn today or enhance the profile you have already set up to promote your Veteran Owned Small Business.
VAMBOA, the Veterans and Military Business Owners Association invites you to join as a member.  There are not any fees or dues.   You may also proudly display the VAMBOA seal on your website and collateral.   We provide several articles on our blog weekly with all types of valuable information.
JOIN TODAY here:   https://vamboa.org/member-registration/