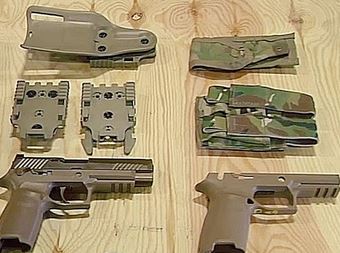 By Debbie Gregory.
A recent report from the Congressional Research Service (CRS) concluded that the U.S. Army got a good deal on its new Modular Handgun System (MHS), but the actual cost is not really known.
CRS, the public policy research arm of Congress,  provides vital analytical support to address the most complex public policy issues facing the nation.
The Army MHS is a weapon system produced by Sig Sauer that is set to replace the Beretta M9/11 pistol, used by the Army since 1986.
The 10-year, firm-fixed-price, indefinite delivery, indefinite quantity contract has a cap of $580 million. A firm-fixed-price contract provides a unit price that is not subject to any adjustments based on the contractor's costs in meeting the contract requirements. Indefinite quantity means the Army can order as many or as few units as it requires, up to the $580 million contract cap. To date, the Army has obligated approximately $8 million.
While cost data for the Army contract is not publicly available, the cost of similar weapons, accessories, and ammunition can be found at major firearm sellers. For example, CRS compared the MHS contract to a similar purchase at Cabela's, a gun retailer mentioned by Army Chief of Staff General Mark Milley in a March 10, 2015, address. The comment was in regards to Milley's frustration with the extended length of time the procurement of the handgun had required.
With that said, based on the final cost of the weapon program, the CRS report concluded that the Army appears to be procuring the weapon at a competitive cost, particularly if the value of the intellectual property is included.
CRS did not examine the capability of the weapon system or whether it fulfilled Army requirements.