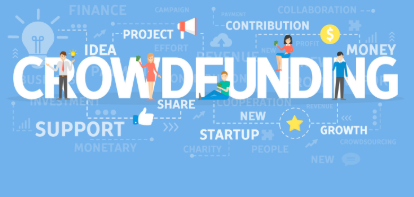 By Debbie Gregory.
There are different types of crowdfunding.   One of them, rewards crowdfunding, has been characterized as the new seed-funding.  Most people think of Kickstarter as the crowdfunding model, with money donated for specific projects or products, often with a reward as "payment"
There are other effective types of crowdfunding including equity crowdfunding that involves selling partial company ownership through online sites.  There is also peer-to-peer lending that is crowdsourced loans from lenders that are not financial institutions.
If you are considering the reward and donation crowdfunding for your small business, below are some things to consider:
What is the Right Platform for You?
It is important to select the right platform especially with hundreds of them available.  As with any business decision, it makes sense to do some research selecting from the best crowdsourcing sites that have proven track records in your business industry, that offers similar incentives.  Additionally, it is important to find one with the right user demographics. The most popular sites are Kickstarter and Indiegogo, but there are others that might be a good fit as well.
One very important consideration is whether your company gets the money raised even if it does not meet its goal. Some platforms allow companies to access any money raised while others follow the all-or-none model. The latter can be devastating if the campaign does not hit its target, so this is a very important consideration.
What Are the Fees of the Platform?
Each site has its own fee structure. Sometimes that fee is different if the campaign fails to meet its goal. You should expect to pay 5% to 10% of funds raised just to use the site, plus credit card processing fees.
How to Structure Donation Perks
In the reward crowdfunding model, the funder often is given a perk in exchange for the donation. This can be a certificate, such as a virtual pat on the back, or multiple products when they are finally manufactured.
Rewards and shipping can easily eat into your proceeds. It certainly is possible to lose money on rewards, especially if the campaign does not reach its goal. Additionally, do not underestimate the amount of time needed for reward fulfillment and tracking.  This is time that might be better spent on marketing or development.
Before the Campaign is Live
It can be time consuming to raise money on crowdfunding sites.  Before the campaign begins, your company should clearly define its goals and develop a professional-looking video explaining how the money will be used and details about the project or product. This should also be clearly written out in the campaign text.
Next, develop a list of potential funders to target and begin publicity early. The campaign should not come as a surprise to those who already know about the company. It is imperative that in addition to current customers and friends, you must include industry influencers and media that can help spread the word and possibly contribute as well.
What to do During the Campaign
Once the campaign is live, the fundraising work continues full force throughout the duration. You can use social media to keep awareness up as well as email updates to current and potential funders. People are more willing to back a campaign that starts out successfully than one that lags, so the initial push should be huge. Please do not underestimate the amount of time required after the campaign is over to fulfill rewards and stay in touch with donors. The reputation of your businesss is on the line.
Crowdfunding can be an exciting and public way to announce a new venture and raise money for it. With this said, many campaigns fail, so it's important to be ready to focus the time and energy needed to make the campaign a success.   VAMBOA wishes you great success.  Please stay tuned for the next article in this Crowdfunding series on the VAMBOA blog.