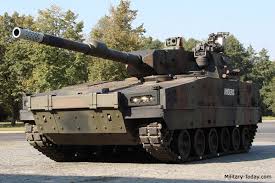 By Debbie Gregory.
The Army picked General Dynamics and BAE Systems to build contending prototypes for its Mobile Protected Firepower light tank. The Army plans to choose a winner in fiscal 2022 and have battle-ready tanks by 2025. The service branch has plans to field some 500 of the armored vehicles.
The Army turned to its traditional vendors, with a $375.9 million award to BAE and $335 million to General Dynamics Land Systems. The Mobile Protected Firepower project is in preparation for wars against peer competitors, such as China and Russia. The vehicle is essentially a 30-ton light tank to accompany airborne troops and other light infantry where the 70-ton M1 Abrams heavy tank can't go. Therefore, two of them must be able to be transported aboard a C-17 Globemaster III airlifter, which has a capacity of about 80 tons.
"Currently, the Mobile Protected Firepower capabilities do not exist in our light formations," said Brig. Gen. Ross Coffman, director of the Next Generation Combat Vehicles Cross Functional Team. "The requirements associated with this will enable U.S. forces to disrupt, breach, and break through those security zones and defensive belts to allow our infantrymen and women to close with and destroy the enemy on the objective."
Soldiers will test the vehicles during the Army's trials. The tanks will be fired upon to determine how they stand up to enemy weapons and driven over the types of terrain that troops tend to travel over.
General Dynamics Land Systems' vehicle is the Griffin, a modified version of the British Army's new Ajax tracked reconnaissance vehicle equipped with a version of the M1A2 Abrams tank turret.
BAE will produce an updated version of the M8 Buford, an air-droppable light tank the Army flirted with buying in the 1990s but ultimately cancelled.
A third competitor, designed by SAIC, was not chosen to proceed in the competition