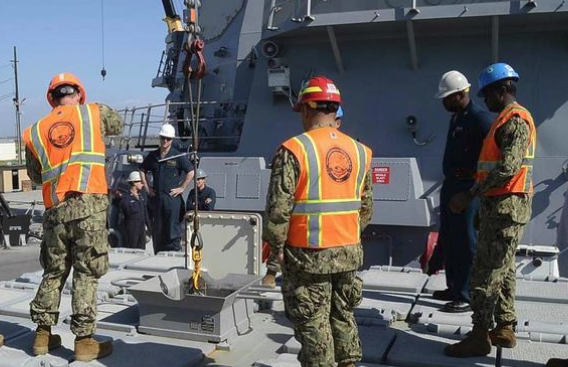 By Debbie Gregory.
A memo from Acting Defense Secretary Patrick Shanahan appears to have preserved $310 million in California military construction funds that were in danger of being diverted to border wall construction.
Shanahan directed the Pentagon to provide a list of $3.6 billion in military construction projects that could be used to fund the border wall by early May. Shanahan's memo exempted projects awarded in fiscal 2019.   The majority of the new construction planned for military bases at Naval Weapons Station Seal Beach, Camp Pendleton and Fort Irwin have fiscal 2019 award dates.
The projects include a $118 million reconstruction of the docking facilities at the Naval Weapons Station Seal Beach, which includes the overhaul of the Anaheim Bay depot. This project will allow the station to load munitions onto larger ships and onto more ships simultaneously. It also will help accommodate the current shift of ships from the Atlantic to the Pacific. Work could begin as early as the end of this year.
The Navy's preferred plan includes a 1,100-foot pier, a new breakwater to protect the pier, a causeway for trucks and a channel dedicated to public boats, which now travel through the same area used by Navy.
Camp Pendleton is slated for a $49-million amphibious-vehicle maintenance and warehouse building that is needed to properly maintain and repair the existing fleet of AAVs and new ACVs, that support the main combat focus of the Marine Corps amphibious operations.  There is also a $47-million upgrade to the base's potable water system. The base still stands to lose $26 million awarded last year for a replacement medical care center.
Fort Irwin, a major training center in the Mojave Desert, is scheduled to receive $29 million in 2019 awards for a multipurpose training range complex. The National Training Center (NTC) is part of the United States Army Forces Command. The opposing force at the NTC is the 11th Armored Cavalry Regiment, the Blackhorse Cavalry, who are stationed at the base to provide an opposing force to units on a training rotation at Fort Irwin.
Tell us what you think and bring any new updates to this information to our attention.
Veteran and Military Business Owners Association, VAMBOA.