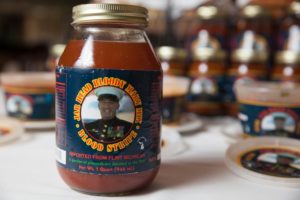 By Debbie Gregory.
Gunnery Sgt. David Smith, served more than 20 years in the Marines as a cook, and developed the secret recipe for his salsa during those years. David and his dad, Tom, are two of only five people who know the top-secret recipe for their Jar Head Salsa.
"It's kept in Grand Blanc, Michigan, and guarded by a Marine," said Tom Smith of the recipe.
David came up with the recipe when he was cooking for some 3,000 U.S. Marines a day at Camp Pendleton in Southern California.
"We went to visit him and he told us to try the salsa he created. It was wonderful," said Tom. "We started bringing back coolers of his salsa."
In 2009, the father and son would take over the kitchen of the Grand Blanc Township VFW Post 822 twice a week, chopping, mixing and tasting the salsa until they achieved perfection. The top Secret Recipe includes eight different vegetables, citrus juices, and spices.
They began selling the salsa at local farmers markets, donating 10 percent of the net revenues to charities that support veterans.
For Tom, who retired from quality control at General Motors in 2008, this is his shot at a dream.
"I had this entrepreneurial desire that was pent up all those years at GM," said Tom. "This doctor, who kept ordering the salsa and giving it to his friends, said we should go into business. That's all I needed to hear."
David graduated from U.S. Marine Corps boot camp in 1998 and quickly worked his way up to gunnery sergeant running the food service for some 3,000 marines stationed at Camp Pendleton.
"There was a lot of Mexican food down that way," Tom said. "The Marine Corps food services has a taco bar… it's like a buffet."
David found the government-issued salsa unacceptable, so he set out to fix that problem. He began experimenting with creating his own salsa. It took a few tries, but he found the perfect recipe and his Marines loved it. When his parents started sharing it with colleagues and friends, they knew it was a hit.
After David retired from the service in 2008, he and Tom launched the business. Although it took a while for Jar Head Salsa to be profitable, the company has donated $46,800 to charity so far.
Jar Head Salsa ships salsa to most of the 50 states.