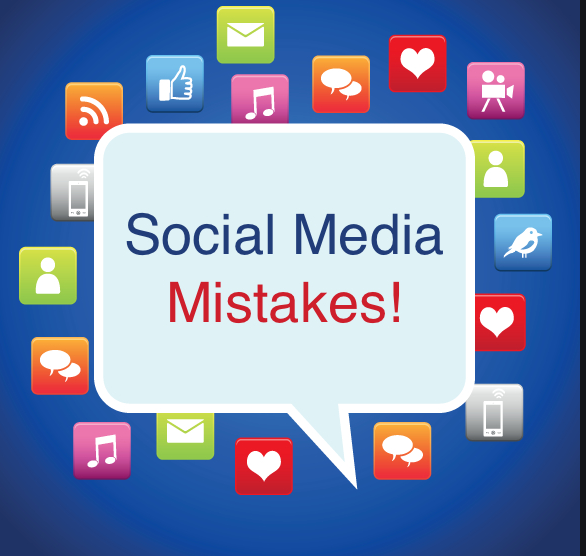 By Debbie Gregory.
Using social media for business is not the same as using it personally. One insensitive post has the potential to ruin your business with negative coverage and a public backlash.
These are some of most common and damaging business social media mistakes:
Never build an audience that does not fit your ideal customer:
Your social media efforts should be focused on targeting your ideal customer and not those that don't fit that profile.  Those managing your social campaigns must have a clear understanding of who is your ideal customer.  They need to execute a strategy that will appeal to and attract this specific group. Do not sacrifice your company's overall marketing strategy for a few likes or shares from the wrong people. Doing so, will not generate revenues for your company and can generally harm to your reputation.
Never let an intern or consultant have free reign over your accounts:
As an established business, you have already spent time building your brand, your message and the proper tone for all your business marketing. Do not allow a temp ruin all your hard work with a bad post or poor idea. If you cannot handle your social media in-house, make sure that whomever you hire, has very specific guidelines on how to post for your business. Additionally, it is a good idea to make sure that you are the administrator and manager of all of your accounts.
Never delete bad reviews or complaints:
It doesn't matter if the review or complaint is unfair, you do not want to remove it. Hiding negative feedback makes your company look like it is hiding something larger. Instead, use complaints as an opportunity to publicly fix problems. Just make sure that you are respectful and kind in your responses. Negative feedback coupled with a positive public response from your company can actually benefit your business.
Never ever argue or attack:
Complaints do happen.  Customers are occasionally unfulfilled by your offerings, or a customer can simply be having a bad day and your company ends as their target.  Do not under any circumstances publicly argue with or attack a customer. If you need to have a full discussion with an upset customer, always provide them a contact number or email address so that you can resolve the issue privately.
Never let pre-scheduled posts continue after a crisis:
This makes your company appear extremely insensitive. Cancel or postpone posts until a respectable amount of time has passed.
Never neglect the "voice" your company has carefully cultivated:
Your company's online personality has been carefully crafted.   After you identify your ideal customer base, make sure your message appeals directly to them. Make sure that your posts will engage the right people with the right voice and message.
Never limit your posts to just promotional content:
You are a business and you are looking to sell something. Everyone knows that. Everyone is constantly bombarded with marketing messages that can become very annoying.  Mix it up with posts that are fun or more personal making sure they fit your company's brand and ideal customer.
Never forget the purpose of the platform:
Social media is called SOCIAL for a reason. Ask questions, solicit feedback, and make sure to answer questions and comments directed to your company.
Never misuse a hashtag or meme:
Using trending hashtags is a great plan but only if these hashtags relate to your business. Don't use trending hashtags or popular memes to attempt to insert yourself into a discussion that has nothing to do with your company.
Social media is a fantastic tool for building and interacting with a loyal customer base. It also helps your company stay relevant in today's fast changing consumer landscape. However, the wrong moves can significantly damage your business and brand.  Do not allow these social media fails to create liability for your business when the right kind of meaningful social interaction is easy to do and offers real benefits for your business.