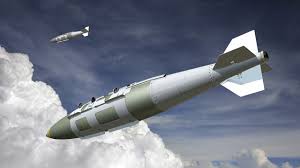 Boeing Co was awarded a $3.2 billion contract modification to a previously awarded contract for Joint Direct Attack Munition (JDAM) tailkits, according to the Pentagon.
The contract for the tailkits, which use GPS to boost accuracy for conventional bombs, was raised from an initial $1.75 billion contract awarded on Oct. 30, 2014, due to warfighter demand and to replenish depleted inventories, the Pentagon said in a statement.
The JDAM tailkit converts existing unguided free-fall bombs into accurate, adverse weather "smart" munitions. With the addition of a new tail section that contains an inertial navigational system and a global positioning system guidance control unit, JDAM improves the accuracy of unguided, general purpose bombs in any weather condition.
Once released from the aircraft, the JDAM autonomously navigates to the designated target coordinates. Target coordinates can be loaded into the aircraft before takeoff, manually altered by the aircrew before weapon release, or automatically entered through target designation with onboard aircraft sensors.
With a range of more than 15 nautical miles, JDAM can defeat high-value targets in any weather, day or night, with minimal risk to air crews. This system works fine even in bad weather, because the JDAM gets all its information from satellite signals, which aren't blocked by cloud cover or obstacles. The bomb doesn't have to see anything at all to find its way to the target.
New variants such as Laser JDAM and JDAM Extended Range allow warfighters to prosecute moving targets and deploy the weapon from greater distances, capabilities that come with little to no development risk since they are based on proven technology.
The JDAM played a major role in the U.S. invasion of Afghanistan in 2001, and it will certainly play a significant role in any U.S. bombing campaigns in the near future. While the newest smart bombs aren't 100 percent accurate, they are such an improvement over their predecessors.
More than 260,000 JDAM kits have been built at Boeing's production facility in St. Charles, MO.
JDAM is a joint U.S. Air Force and Department of Navy program.