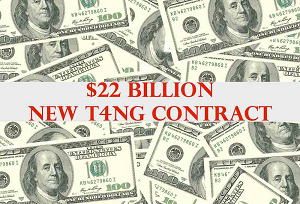 The Department of Veterans Affairs (VA) has awarded $22.3 billion in contracts to 21 large businesses, small businesses and Service-Disabled Veteran Owned Small Businesses (SDVOSBs). The contracts will be in support of information technology infrastructure improvements, cyber security and operations and network management. This is a boon for veteran business owners.
The awards are part of VA's Transformation Twenty-One Total Technology Next Generation acquisition program, also known as T4NG.
"This T4NG award is one of the many ways the Department is supporting the MyVA breakthrough initiatives by directly providing the technology that our Veterans need to support the services they receive from VA," said Secretary Robert McDonald. "The T4NG will help meet and strengthen VA's long-term technology needs."
Of the 21 contract awarded, 10 were made to Service-Disabled Veteran Owned Small Businesses (SDVOSBs), two awards were made to small businesses, and nine awards were made to large businesses.
T4NG is the largest Indefinite Delivery/Indefinite Quantity contract awarded out of the VA. The T4NG program will replace the original T4 multiple-award contract that expires in June 2016.
The Service Disabled Veteran Owned Small Businesses awarded the contracts are:
AbleVets, LLC, B3 Group, Inc., Fairfax, VA,  Business Information Technology Solutions, Inc., Falls Church, VA, Favor TechConsulting, LLC, Richmond, VA, Halfaker & Associates, LLC, Arlington, VA, HMS Technologies, LLC, Martinsburg, WV, Intelligent Waves, LLC, Reston, VA, Liberty IT Solutions, LLC, Herndon, VA, Nester Consulting LLC, dba GovernmentCIO, Columbia, MD and TISTA Science and Technology Corp., Rockville, MD.
T4NG is a Multi-Agency (MAC) Indefinite Delivery/Indefinite Quantity (IDIQ) Multiple Award Task Order (MATO) contract with a base ordering period of 5 years and one 5-year option period, with a program ceiling of $22.3 billion.  The contract is being managed by VA's Technology Acquisition Center in Eatontown, New Jersey.
We hope the government will continue to seek out and support Veteran Business Owners and Service Disabled Veteran Business Owners and award contracts to them.