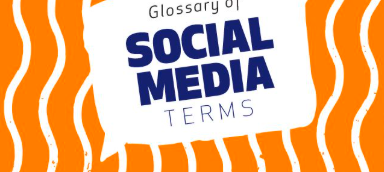 By Debbie Gregory.
With all the new social media terms popping up all the time, it certainly can be very confusing to keep up with all of them as well as trying to understand what they mean or how to use them. Below are even more terms to add to your glossary.
Social Selling
Social selling is the practice of using social tools to find leads, connect with prospects, and nurture business relationships.
Snap
Snap is the company that owns Snapchat, the photo- and video-messaging app launched in 2011. Each post on Snapchat is also called a Snap. Users can add filters, text, drawings, or emoji to their content before sending it. Direct messages last only up to 10 seconds before they disappear forever and are erased from the company's servers. Snap Stories allow users to share re-playable Snaps for up to 24 hours.
Spam
Spam is unnecessary, unwanted, or repetitive content that clogs inboxes and clutters social media feeds. The term "spam" has been used to refer to junk messages since the earliest days of the Internet.
Sponsored Posts
Sponsored posts are social media posts in which an influencer or celebrity highlights a brand or product that they have been paid to promote. These posts must be identified as ads using a hashtag like #ad or #sponsored.
Sticker
Stickers are a feature of stories formats like Snapchat and Instagram Stories. They allow users to add extra information to a post, like a hashtag or location. Some stickers offer interactive features such as questions and polls.
Stories
Stories are a form of ephemeral content on Facebook, Instagram, or Snapchat that disappears after 24 hours.
Tag
A tag is a keyword added to a social media post to categorize content. You can also tag someone in a post or photo, which creates a link to their social media profile and associates them with the content. Users have the option to remove unwanted tags from their profile.
Targeting
Targeting is the practice of selecting a specific audience for social ads to maximize conversions. Social networks offer many targeting options based on factors like demographics, location, and interests.
Thread
A thread is a string of messages that make up a conversation. Threads begin with an initial message and then continue as a series of replies or comments. Threads are essential to keeping track of conversations in most forms of online communication, including social media and email.
Throwback Thursday (#TBT)
Throwback Thursday (#TBT) is a hashtag used to share old photos on social media.
Trending
A trending topic or hashtag is one that is popular on social media at a given moment. Trends are highlighted by social networks such as Twitter and Facebook to encourage discussion and engagement among their users. The "trending" concept was first popularized by Twitter and has since been adopted by other networks. The trends that you see on Twitter and Facebook are based on your location, who you follow, and the content you like.
Troll
A troll is a social media user who makes deliberately offensive or annoying postings with the sole aim of provoking other users.
Tweet
A Tweet is a Twitter post. Tweets are limited to 280 characters and can include photos, videos, and links. They are public by default.
Unfollow
To unfollow someone is to unsubscribe from their social media account. If you would prefer to maintain the social connection but don't want to see their posts, you can mute them instead.
URL
URL is short for Uniform Resource Locator. It means the address of a website page or other resource on the Internet. URLs can contain codes called UTMs that help with tracking and analytics.
URL Shortener
A URL shortener is a tool that condenses a long URL into a shorter (and more social media friendly) format. URL shorteners such as ow.ly can also provide link tracking capabilities, which allow businesses to measure click-throughs from social media and attribute website conversions to individual social messages.
User-Generated Content (UGC)
User-generated content is content created by the regular people on social media, rather than brands. Brands collect that content through contests, branded hashtags, or simply reaching out to ask permission. When brands re-share that content with their own followers, they are implementing a UGC campaign. User-generated content can help increase brand awareness and loyalty by allowing businesses to tap into the excitement and creative energies of their customers.
Vanity Metric
A vanity metric is an analytics item that can be measured but is not a signifier of real return on investment. Examples include the number of followers, likes, or comments. These metrics are best contextualized by more concrete numbers such as click-through rate or visitor-to-lead conversions.
Vanity URL
A vanity URL is a web address branded for marketing purposes. Vanity URLs replace common URL shortened formats with something related to an organization's branding. For example, Time Inc.'s vanity URL is ti.me. The New York Times uses nyti.ms.
Verified
To be verified on social media means that you have proven your identity to the social media platform provider and gained a verified label in return, usually in the form of a checkmark. This is usually reserved for brands, journalists, and other public figures as a way of preventing fraud and protecting the integrity of the person or organization behind the account.
Viral
To go viral on social media is to have a specific post bring in an unusually large number of engagements. An exceptional number of shares is the clearest sign of going viral, as your post spreads across the internet like a virus.
Virtual reality (VR)
Virtual reality immerses the user in an experience so that what they are doing looks or feels real. VR headsets are a common way of engaging with virtual reality.
Vlogging
Vlogging is a combination of the words, "video" and "blogging." It means to create and post video blog content. Someone who vlogs is known as a vlogger.
Webinar
Webinar is a combination of the two words "web" and "seminar." A webinar is a digital broadcast of a presentation intended to educate or inform. Webinars allow users to watch a presentation from their computer or other device, and often interact directly with the presenter or fellow attendees through chat or video.
Whew! That is a one long list.  VAMBOA hopes it is valuable and you learned some new terms.   Please print out your glossary and share this article.   Everyone stay safe, healthy and we wish you prosperity!