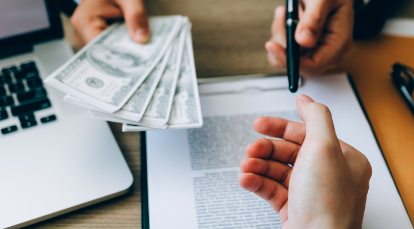 By James Pruitt, Senior Staff Writer
Small business loans help entrepreneurs build, maintain, or expand their companies. Getting a business loan for your company doesn't always require walking into a bank and securing funds.  There are also a variety of online small business lenders to consider, which may have easier qualifications and faster applications.
Small businesses account for a significant chunk of American economic activity.  The United States Small Business Administration (SBA) estimates that there are 32.5 million small businesses across the country. While the nature of each one varies, many hold one major thing in common: the need for business financing.
Remember that loans don't provide the only recourse. Money for a small business may come from any of many sources, including grants and lines of credit. Each option comes with its own benefits depending on the business owner's circumstances.
As for loans, good terms can provide crucial growth fodder for your enterprise. However, smaller businesses need to do their homework before taking the plunge. Consider how much your business needs as well as your eligibility. Alternative lenders, such as OnDeck and SGB Funding, can provide support for new business owners without a strong credit history, but only in exchange for less favorable terms. 
Business owners may obtain good credit by:
Signing up for a business credit card,

Establish ongoing relationships with suppliers, which may include obtaining trade credit. Many suppliers may extend credit which they report to credit agencies.

Ensure prompt payment of any debts. Also remember that if you choose to incorporate your business, the business itself transforms into its own entity. The credit agency's relationship is now with the business rather than you personally.

Carefully monitor your progress with each of the credit agencies.
As for the application process, lenders generally look for evidence of a strong, consistent cash flow. These lenders tend to ask for, at a minimum:
A recent statement of profits or losses

Personal and business tax returns going back 2 or 3 years

Business plan

Any legal filings, such as Articles of Incorporation

Any business licenses you or the other owners hold.
Credit scores can vary, but a score of over 700 should ensure good terms for a loan.
When choosing a lender, consider the types of loans available. These loans may include:
For example, "franchise startup loans" can allow a purchase of a branch of a larger company. Some entrepreneurs may purchase a franchise office for a larger company such as Mcdonald's, 24 Hour Fitness, or any of a variety of other larger companies.
A "professional practice loan" may provide an option for a Veteran who's just finished school. Some business owners need startup money even after they've gone through graduate school and received a license. Think doctors, lawyers, speech therapists, nurse practitioners, accountants, and Certified Physicians Assistants. 
Yet another example: "working capital loans.":  Short-term loans are meant to keep the enterprise running, often through a crisis or downtime. Several Pandemic-era loans rescued various restaurants and entertainment venues during lockdowns to keep them alive through those difficult months.
Some loans may specialize even further. Many lenders offer "equipment loans" for business owners who need specialized equipment to stay running. Examples may include restaurants that need specialized cooking equipment and clothing companies that may need embroidery equipment, looms, and other devices. 
Check with the direct lender before considering any of these types of loans. Overall, different lenders provide different pathways to obtaining funding. A good relationship with the direct lender and an inquisitive approach to interactions with that lender could make all the difference. Getting the right information at the right time provides the best long-term outcome with a commitment to a small-business loan.  
VAMBOA, the Veterans and Military Business Owners Association hope that this article has not only been you have enjoyed this second and final article in this mini-series and that it provided you with some valuable information. 
We work hard to bring you important, positive, helpful, and timely information and are the "go-to" online venue for Veteran and Military Business Owners.  VAMBOA is a non-profit trade association.   We do not charge members any dues or fees and members can also use our seal on their collateral and website.   If you are not yet a member, you can register here:  https://vamboa.org/member-registration/
We also invite you to check us out on social media too.
Facebook:  https://www.facebook.com/vamboa
Twitter:  https://twitter.com/VAMBOA
Do not forget that VAMBOA members receive significant discounts on technology needs.   Check them out here: https://vamboa.org/dell-technologies/