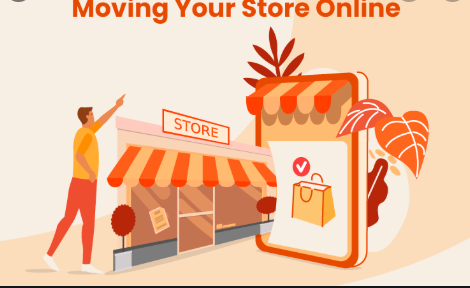 By Debbie Gregory.
The current COVID-19 pandemic is dramatically shifting the shopping habits of everyone. With so many people at home, relying on online shopping for most of their current needs, and unable to shop in physical stores, now is the best time to shift your operations online. These tips can help you begin moving your existing physical store to an eCommerce platform to sell your products and services online.
Figure Out How to Sell Online:
There are a few options for selling your products online.  Your specific needs will help you to select the best online platform.  If you are a large retailer with a wide variety of products, you need a more comprehensive eCommerce platform than a smaller retailer with only a handful of different products. If you plan to keep your physical location, make sure that the platform you select allows you to track both online sales as well as in-store sales from a single integrated dashboard.
If you want total control over your online store, fees, tracking, and more, you will need to either add a store to your existing website or start a new shop site on a dedicated shopping platform. It is a good idea to explore each platform and see what they have to offer before making a selection. Below are a few of the most popular platforms:
3D Cart
BigCommerce
Helcim
Shopify
Square
SquareSpace
Stripe
WooCommerce
Volusion
X-Cart
Of course if you do not have any desire to launch your own website, you can setup an account, or seller store, in any of the established online marketplaces, such as:
Design the Look & Feel of Your Store:
Once you have selected how you want to sell online and purchased your platform, it is time to customize your new storefront. You want to make sure that your new storefront matches any existing company branding, colors and the overall look & feel of your brand.  After your design is ready, you can begin adding products.
Adding Products:
High quality, attractive, fully filled in listings are essential for your online store to be successful. Polished and well laid out pages will help establish your store and keep shoppers interested in your items. Every product listing needs to include:
A product title or name
A detailed product description
High quality photos
Any information about sizing
Shipping and tax information
Set Your Prices:
Your prices may need to change a bit in your online shop from what they may be in your physical location. You will need to consider the "overhead" of selling online before you set your prices. Your online shop has new fees for you to take into consideration, such as:
Packaging costs
Shipping costs
Taxes
eCommerce platform fees
3rd party application fees
And more
Make sure make a list of all of your new fees and remember to do some research on items similar to your offerings to make sure that you are pricing your items competitively while at the same time covering all of your costs.
Checkout  & Payments:
The ability to accept payments online is essential to every online store. Most eCommerce platforms come with built-in payment processing or a merchant account.  If you decide to go it alone, you may need to sign up with a third-party platform to secure payments. Just make sure that whatever payment processing platform you select, that there are safeguards in place for your customer's sensitive banking data. Protecting this sensitive information is the seller's responsibility, so choose carefully.
Be on the look-out for Part 2 that will cover email notifications, shipping & fulfillment, advertising your new store and other pages you will want to include when building your new eCommerce store.