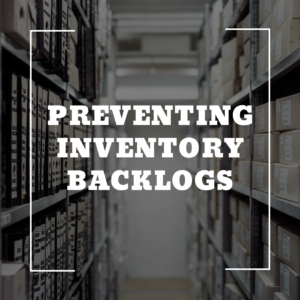 By James Pruitt, Senior Staff Writer
Vast deposits of excess stock can leave small business owners bewildered or perplexed in the wake of a "failed" marketing attempt. Remember, excess inventory generally has some value to someone. However, prevention generally spares entrepreneurs storage expenses and manufacturing costs. 
Whatever happened to the Avon Lady? Multilevel marketing schemes are back with a vengeance. These companies can famously leave a garage full of excess merchandise. But what about the tribulations of small business owners who manufacture their own products?
As a general principle, unused products are a liability for small businesses. Such products gain the moniker of "deadstock" after collecting cobwebs in the back shelves of warehouses.
The Pandemic has brought fluxes in inventory to all sectors of the economy. Supply chain disruptions have plagued the worldwide economy since March of 2020. Skeleton crews on all fronts have left companies alternately oversupplied or undersupplied, even as demand has mushroomed since the early part of this year.
Inventory shortages are nothing new. First, demand fluctuates naturally due to a variety of market forces. Fashions move forward, circumstances change, and consumer needs oscillate accordingly. 
Second, businesses sometimes rush to meet demand. In the process, quality may suffer, leading consumers to search elsewhere. Over-eager business owners sometimes churn out subpar products to meet demand. The result leaves the owner in the lurch for storage and disposal. No one wants a trove of shoddy "skinny jeans" manufactured in 2008, especially in 2021.
Third, some businesses may lack effective inventory management systems. Internal operations may well disrupt a good balance between different types of products. Good online inventory management programs may include Fishbowl, Netsuite, and Quickbooks, although options for businesses are vast, and may include proprietary options as well. Also, consider the everyday operations of a company outside the computer system.
Fourth, the business may be marketing one product at the expense of another. Marketing resources may gravitate in one direction, based upon the expertise or biases of the company staff. Leadership on hand may know more about one product than another. Sometimes leadership and staff simply prefer one product over another. Such cases may simply present a human resources challenge.  Enthusiasts of one type of product on the marketing front may compensate for an oversupply of fans of another.
Finally, one person's trash is another's treasure. Remember that disastrous ET video game from the early eighties? Most ended up in a landfill. The landfill was excavated, and some collectors of vintage arcade games paid over $1000 for cartridges of a terrible but historically significant video game. Even in most cases of overstock, hope remains.
Best practice avoids excess supplies of unmarketable products from the outset. However, as with most of life's problems, excess inventory is often unavoidable. With the resurgence of multilevel marketing, overstock has reached new levels in some quarters. However, certain business practices have long resulted in inventory imbalances, even before the Pandemic. 
In Part I of this two-part series, we examined strategies to prevent excess deadstock, to begin with. In Part 2, we will examine strategies to dispose of excess inventory, online and otherwise once such stock inevitably accumulates.
VAMBOA, the Veterans and Military Business Owners Association hope that this article of this two-part series has not only been valuable but provided some unique perspective.  We work hard to bring you important, positive, helpful, and timely information and are the "go to" online venue for Veteran and Military Business Owners.  VAMBOA is a non-profit trade association.   We do not charge members any dues or fees and members can also use our seal on their collateral and website.   If you are not yet a member, you can register here:  https://vamboa.org/member-registration/
We also invite you to check us out on social media too.
Facebook:  https://www.facebook.com/vamboa
Twitter:  https://twitter.com/VAMBOA
Do not forget that VAMBOA members receive significant discounts on technology needs.   Check them out here: https://vamboa.org/dell-technologies/