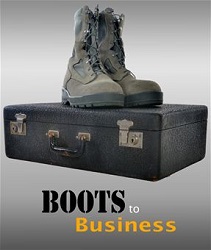 Boots to Business program is set to benefit from $1.12 million in grants.
On September 19, 2014, the U.S. Small Business Administration (SBA) announced that it has entered into a cooperative agreement with America's Small Business Development Centers, SCORE, and the Association of Women's Business Centers (AWBC). This co-op has agreed to provide a total of $1.12 million worth of funding needed to facilitate resource partner participation in SBA's Boots to Business program.
The SBA's Boots to Business program provides training to transitioning service members and military spouses who are interested in business ownership. The program functions as part of the Defense Department's TAP program. The original Boots to Business began as a pilot program in 2012, and was expanded in 2013.
Each year, more than 250,000 service members separate from the military ranks. With their experience and leadership skills, Veterans have proven to be natural entrepreneurs. Veterans are more likely to be self-employed than those with no active-duty military experience. There are approximately 2.45 million Veteran owned small businesses in the U.S., making up approximately 9% of all American small businesses. Veteran owned small businesses employ more than five million Americans, generating more than one trillion dollars of sales receipts each year.
"Veterans make some of our country's best entrepreneurs, and we are investing in them by ensuring our partners are funded to maximize the training and support they provide to service members embarking on their post-service careers," said SBA Administrator Maria Contreras-Sweet. "We owe so much to those who have served in our Armed Forces and sacrificed so much.  Our veterans deserve opportunities, and the SBA and our network of small business experts are ready to help them start their next chapter."
Since January, 2013, more than 16,000 transitioning service members have participated in the two-day "Introduction to Entrepreneurship" class that was offered on 165 military installations around the globe. This year, the Boots to Business program was appropriated $7 million in the federal budget.
To learn more about the Boots to Business Program and additional opportunities for veterans available through the SBA, visit www.sba.gov/vets.
The Veteran and Military Business Owners Association (VAMBOA) is a non-profit business trade association that promotes and assists Veteran Business Owners, Service Disabled Veteran Owned Businesses (SDVOB) and Military Business Owners. Small businesses are the backbone of our economy and responsible for job generation. That is why VAMBOA provides its members with Business Coaching, Contracting Opportunities, a Blog that provides information, Networking contacts and other resources. Membership is FREE to Veterans. Join Now!
VAMBOA: Boots to Business Gets $1.12M: By Debbie Gregory