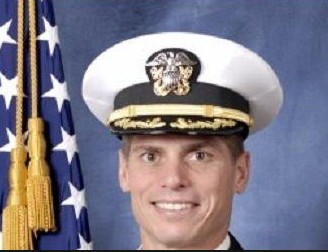 By Debbie Gregory.
Retired U.S. Navy captain David Haas is the latest former or current Navy official to be caught up in the "Fat Leonard" scandal, a corruption scandal and ongoing investigation within the United States Navy involving ship support contractor Glenn Defense Marine Asia, run by Leonard Glenn Francis.
Francis, known as "Fat Leonard" due to his six foot three inch, 350 pound frame, has admitted to bribing Navy officials with more than $500,000 in cash, prostitutes and more.  He used bribery to get classified information that helped his Singapore-based company retain lucrative contracts to resupply Navy vessels in the Pacific. Francis confessed to swindling the Navy out of $35 million and bribing scores of officers.
Haas has been indicted on federal charges of receiving at least $145,000 in bribes to steer ships to ports controlled by Francis' company and otherwise advance Francis' interests
Also charged this month were Master Chief Petty Officer Ricarte Icmat David  and Chief Petty Officer Brooks Alonzo Parks, both retired. David is awaiting possible extradition from the Philippines and Parks is awaiting possible extradition from Italy.
Haas is currently a Federal Emergency Management Agency coordinating officer in Hawaii, but FEMA representatives have declined to make any comment.
Dozens of former Navy officers and others have been charged in the scandal that the Justice Department called a betrayal of "epic proportions."
So far, 32 defendants have been charged and 20 have pleaded guilty in the U.S. Navy bribery and fraud scandal.
The case is being prosecuted by Assistant U.S. Attorneys Mark W. Pletcher and Patrick Hovakimian of the U.S. Attorney's Office for the Southern District of California.
In February 2018, through Admiral Bill Moran, the Vice Chief of Naval Operations, the Navy announced the implementation of increased oversight and other measures and policies to deter a repeat of  widespread corruption such as in the Fat Leonard case.