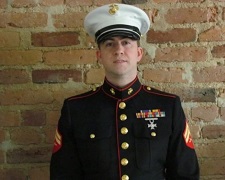 Kevin Blanchard was a combat engineer in the Marine Corps from 2001-2006. In 2005, while serving in Iraq, Blanchard lost one of his legs below the knee, due to a roadside bomb explosion.
When his service officially ended in 2006, Blanchard was faced with the challenge of transitioning into civilian life as a Wounded Veteran. Blanchard had no idea what he wanted to do with the rest of his life. And with his injuries, he was not sure what options were available to him.
Blanchard said that he tried a lot of things out and gained as much experience as he could in a number of different fields. The Marine Corps Wounded Warrior Regiment's transition cell provided him with information about education, vocational training, employment and entrepreneurial opportunities.
"The regiment prepares wounded, ill and injured Marines for opening their own business by setting them up with such resources as financial planning guidance, Entrepreneur Boot Camps, connecting them with a mentor, arranging shadow opportunities and more," said Marine Corps Maj. Brian Bilski, the Officer in Charge of the transition cell,. "The goal is to ensure that Marines are confident about transitioning out of the service and into [their] own successful franchise or independent start up."
Initially, Blanchard wanted to become a co-owner of an eco-friendly roofing company. But he discovered that his passion was in helping other former service members understand what resources are available to them so that they can start their own successful businesses.
Blanchard's passion lead to a job as a project coordinator at the International Franchise Association, working on a program called VetFran. The VetFran program provides information, education, links to potential partners, discounts and access to the VetFran mentor network.
The purpose of the program is to build confidence and financial stability, he explained. "You have to trust in yourself," Blanchard said. "It is not always easy to start a business venture yourself. Have confidence in your abilities and be fearless, because you are taking a shot in the dark."
His advice to other wounded, ill or injured Marines looking to start their own business or franchise is to, "stay focused, identify a long-term vision as clearly as possible, and communicate that vision frequently to your team."
In addition to his work with the VetFran program, Blanchard also helps coordinate trade missions for member companies around the globe.