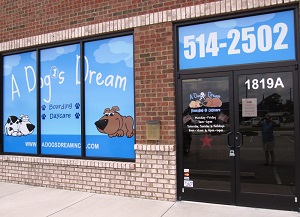 Dan Spangler is a retired Marine and Iraq War Veteran. In 2003, Spangler adopted his dog, Spanky from a local shelter near his home in North Carolina. The Marine and his companion spent a lot of time together and a bond grew between the two. Spangler began taking Spanky to obedience classes and became fascinated with animal training. Spangler began teaching obedience classes himself, after his discharge from the Marine Corps in 2004. Spangler knew that he wanted to go into business for himself, pursuing his passion for animals.
Spangler utilized his GI benefits to earn his Associates degree from Coastal Carolina Community College in Jacksonville, NC. While attending the school, Spangler visited the Small Business Center on campus and realized that there was still a lot about owning and operating a small business that he didn't know.
Not surprising of a Veteran, Spangler strives to be the best in all that he does. So he put a lot of hard work and determination into educating and preparing himself for being a small business owner. For seven years, Spangler worked jobs unrelated to his desired field, saved money, and gathered knowledge and resources. And in 2010, Spangler opened his business, A Dog's Dream, a training, boarding, daycare, grooming and retail center in New Bern, NC. In July, 2013, an article in The Raleigh News & Observer featured Spangler, his success, and his Veteran Owned Business.
Spangler's success story is just one of many by Veteran Entrepreneurs. Rhett Jeppson, Associate Administrator for the US Small Business Administration Office of Veterans Business Development claims that Vets are 45 percent more likely to be small business owners than their civilian counterparts.
Nearly 10 percent of all small businesses nationwide are veteran-owned. Jeppson says that there are 2.4 million veteran-owned businesses that employ almost 6 million Americans and generate more than $1 trillion. It is for this reason that Jeppson believes that Veteran-owned business deserve our support.
Service Members who are transitioning from active service into civilian life attend mandatory Transition Assistance Programs (TAP) classes that provide them with a broad generalization of education benefits & programs, references and guides to occupational resources, including entrepreneurship information.