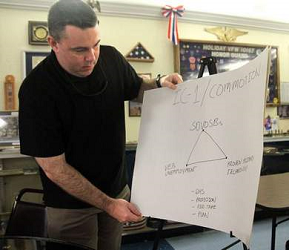 U.S. Army Maj. William J. (Bill) Puopolo was named the recipient of a $30, 000 Veterans' Pathway to Business Success grant. Puopolo was deployed to Iraq in 2006 and to Afghanistan in 2010. He was injured during both campaigns, and was awarded the Bronze Star and a Combat Action Badge.
Originally from Boston, Puopolo relocated to the Tampa Bay area to be near his sister and mother. It was there that he decided to follow his dream of starting his own small business. So Puopolo utilized the knowledge he had gained in the military to launch Verissimo Global, a communications and networking company.
Puopolo started Verissimo Global before his 2010 deployment. When his unit was activated, he had to put his business on hold. Now his sacrifice is being rewarded. Puopolo was named the recipient of a $30,000 Veterans' Pathway to Business Success grant this summer. The nonprofit organization awards grants, which have no fees, no interest and no payback requirements, to combat veterans of the wars in Afghanistan and Iraq, who wish to start or grow their own businesses in Florida.
Puopolo said the funding will allow him and his staff, all disabled veterans, to attain certifications and education that are critical to the company's success.
Puopolo has a Masters degree in Business Administration from the University of Massachusetts, and he completed Florida State University's (FSU) Entrepreneurship Boot Camp for Veterans with Disabilities (EBV).
"Bill distinguished himself at the EBV program," EBV Program Director & FSU Professor Randy Blass said. "He engaged fellow students and instructors on a wide range of topics, and was more than willing to share his knowledge with other student veterans. Many EBV participants sought Bill's consideration and still refer to him today for advice and motivation. He is a wonderful example of what we are trying to accomplish with our entrepreneurial training."
Puopolo still serves as a reserve officer in the Vermont National Guard, and teaches an online course once a week in Information Operations.