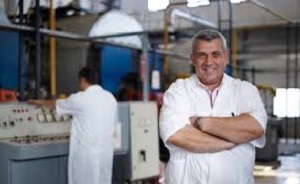 Leadership can be found at the core of every Veteran. Any service member who completed any length of enlistment has followed the orders of their superiors, and most have had some experience in a leadership role. Starting as low as E-4 on the rank hierarchy, many Veterans saw responsibility in extreme situations, that could have a major impact on the lives of their subordinates. Because of this type of experience, Veterans don't shy away from the ultimate civilian leadership role of owning a business and being responsible for the livelihoods of their employees.
Possibly due to their military leadership experiences, Veterans are taking on the challenges of business ownership en masse. According to the U.S. Small Business Association (SBA)'s Office of Advocacy March 2012 report, there are nearly two and a half million Veteran owned businesses in the U.S. Veteran owned businesses make up nearly 10% of all businesses nation-wide.  They also employ close to six million people, including fellow Veterans.
For a company to be considered "Veteran owned," a Veteran must maintain at least 51% of the business' ownership. The federal government, as well as state and local governments, make special provisions that protect Veteran owned businesses. They do so by setting aside government contracts specifically for Veteran businesses. Additionally, an increasing number of Fortune 500 companies have also made pledges to sub-contract with Veteran owned companies.
Studies have shown that 70% of American consumers would prefer to frequent Veteran owned businesses. The proof is in the dollars. Veteran owned businesses account for almost $1.25 trillion in sales receipts each year. Veteran small businesses make up 78.1% of small businesses, with yearly sales of $100,000 or more.
Veterans and service-disabled Veterans who are interested in starting their own companies, or expanding their existing businesses are encouraged to seek membership in the Veteran And Military Business Owners Association (VAMBOA). VAMBOA offers its members contract opportunities and networking contacts with large corporations. Membership is free.