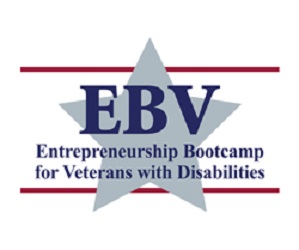 Back in 2007, Syracuse University played home to the inaugural class of the Entrepreneurship Bootcamp for Veterans with Disabilities (EBV) program. The EBV program is designed to open the doors of economic opportunities for Disabled Veterans and their families by helping them develop professional networks, and learn how to create and sustain their own businesses.
The EBV program has grown into a national movement, helping over 700 disabled Veterans. Several university campuses across the country now hold entrepreneurship boot camp sessions for Veterans.  Joining Syracuse University's Whitman School of Management in offering the EBV program to Veterans are Cornell University, Louisiana State University's E.J. Ourso College of Business, the University of Connecticut's School of Business, Purdue's Krannert School of Management, Florida State University's College of Business, UCLA's Anderson School of Management, and Texas A&M University's Mays Business School.
The entrepreneurship training is offered, to qualified Veterans who are accepted into the program, at no charge to the Veterans, and without using any of their GI Bill. For the last seven years, 70% of EBV graduates have gone on to start their own companies.
One EBV success story comes from the very first session at Syracuse in 2007. Marine Corps Veteran John Raftery was preparing to start a contracting firm in Dallas when he read an article about a small business training program for Veterans with disabilities.  The former Marine immediately applied and was accepted into the EBV program.
Raftery credits the program with helping him take the critically important first steps as a small business owner. In 2012, Raftery's company, Patriot Contractors, Inc., was on a list of the 500 fastest growing companies in the country.
"I don't think the business would have grown as quickly if not for the EBV program," Raftery said.
Many Veterans served to preserve the American dream for their countrymen. Thousands of Veterans fulfill their own American dreams when their service to our country has ended. Already proven to have the winning spirit, Veterans make great entrepreneurs.
There are numerous resources available to help Veteran entrepreneurs succeed in their business ventures. The EBV program is just one of many. Please be sure to visit www.VAMBOA.org, as well as VAMBOA's Resource Page to find out more information on the EBV program and many other state, federal and local programs for Veteran entrepreneurs.
The Veteran and Military Business Owners Association (VAMBOA) is a non-profit business trade association that promotes and assists Veteran Business Owners, Service Disabled Veteran Owned Businesses (SDVOB) and Military Business Owners. Small businesses are the backbone of our economy and responsible for job generation. That is why VAMBOA provides its members with Business Coaching, Contracting Opportunities, a Blog that provides information, Networking contacts and other resources. Membership is FREE to Veterans. Join Now!
VAMBOA: Entrepreneur Bootcamp Success Story: By Debbie Gregory