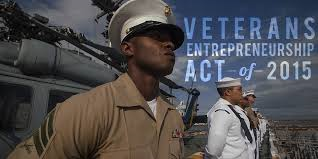 By Debbie Gregory.
The Veterans Entrepreneurship Act of 2015 was passed by the Senate on July 23, 2015. The amendment is added to the Small Business Act. It prohibits the Small Business Administration (SBA) from collecting a guarantee fee in connection with a loan made under the SBA Express Program to a veteran or the spouse of a veteran on or after October 1, 2015. There is a provision to exempt the act during any upcoming fiscal year for which the President's budget, submitted to Congress, includes a cost for the program that is above zero.
The amendment also requires the SBA to assess for Congress the level of outreach to and consultation with female veterans regarding access to capital by women's business centers and Veterans Business Outreach Centers.
Additionally, starting October 1, 2015, the act prohibits the SBA from guaranteeing a loan if:
the lender determines that the borrower is unable to obtain credit elsewhere solely because the lender's liquidity depends upon the guaranteed portion of the loan being sold on the secondary market, or
the sole purpose for requesting the guarantee is to allow the lender to exceed its legal lending limit.
The Veteran and Military Business Owners Association (VAMBOA) is a non-profit business trade association that promotes and assists Veteran Business Owners, Service Disabled Veteran Owned Businesses (SDVOB) and Military Business Owners. Small businesses are the backbone of our economy and responsible for job generation. That is why VAMBOA provides its members with Business Coaching, Contracting Opportunities, a Blog that provides information, Networking contacts and other resources. Membership is FREE to Veterans. Join Now!
VAMBOA: Loan Advantage for Veterans Passes: By Debbie Gregory