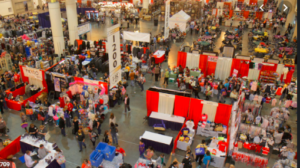 By Debbie Gregory.
Conferences offer you to connect your veteran small business with a variety of connections.  Some of the connections may include potential joint venture partner, potential clients, collaborators and supporters. Attending conferences can be an excellent way to learn new skills and support your professional development, but it's not as easy as just showing up! There's preparation and strategy involved in obtaining the most out from these events.
The main reason to attend a conference is to build meaningful relationships with key contacts. Attending a conference can provide you the time to have multiple meaningful interactions with each of those contacts. Time is at a premium, so use it wisely.
Our next tip is for you to map out your meetings. Try to schedule meetings in a logical geographical sequence so that you don't waste time zig-zagging around the conference venue. Whenever possible, try to arrange a smaller, more intimate get-together over coffee or a meal with a few key contacts.
It is also important to define your goals in advance. What do you hope to get out of the conference? Are you looking for new relationships? Re-connecting with other contacts? Securing customers? A clear vision will serve you well.
Plan to attend the speeches or breakout sessions that are most likely to attract your target audience. Develop questions you have for this target audience or for experts who may be speaking, and practice asking them.  Also be prepared and have your collateral and business cards available to provide your important contacts.
We also advise that you make social media work for you. Search out conference attendees, speakers and sponsors using event hashtags beforehand.  Perhaps connect with them on Linked In too.
It is important to think in terms of the long game. You want to begin building a relationship. If you have not already connected in advance with key contacts, then try to connect with them on LinkedIn within 24-hours of meeting them. It is also a good idea to follow up with an email if you have their business card and contact information
Be friendly! Smile! Ask questions and learn.
Don't just be a taker. Although most booths give out treats out to attendees, attendees can also bring some small treats/gifts placing your business identity front and center.
And no matter what, bring plenty of business cards!
Veteran and Military Business Owners Association, VAMBOA,