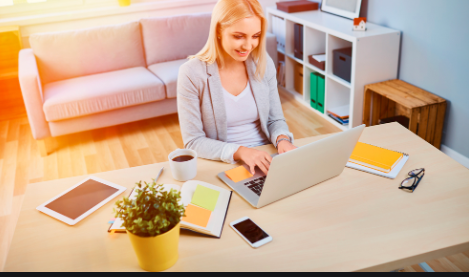 By Debbie Gregory.
You may find yourself suddenly working from home due to COVID-19.   Working from a home office is not necessarily an ideal set-up. The reality is that you are most likely trying to figure out how to juggle a number of balls such as: making space in your home for video calls and meetings, keeping yourself productive, keeping your kids occupied so you can work will trying to maintain a grip on your overall mental well-being.
Below are a few more tips to assist you for working at home productively from your new home office, and help you maintain your overall mental well-being:
1.) Setup a Dedicated & Separate Workplace:   
If you are used to going into an office every day, the separation between your job and your home is physical separation. Working from home removes this separation.   It is important to your productivity to recreate separation with a designated physical workspace in your home. If you do not have the space for a dedicated room, a quiet corner of a least-used room will work. This space just needs to feel as separate as possible from home life.
Tips for a good home workspace:
Make it as comfortable as possible
Make sure it has good lighting
Make sure you include every item you need to perform your job (printer, computer, phone, paper, pens, etc.)
2.) Establish a Clear Routine & Stick to It:
You and those you live with need to understand when you are working and when you are not. Staying close to the hours you normally worked from your office is a good plan. Working from home places you in charge of your environment and your work schedule. This means that you will have to hold yourself and be disciplined.
3.) Know When to Stop Working and Actually STOP:
Once you have established your work hours, you need to make sure that you stick to them and stop working at the "end" of your day. Do something at the end of your designated workday that helps you mentally shift from work mode and unwind such as a walk, yoga or reading.
4.) Organize Work & Plan Tasks for Each Day:
Regardless of where you are working, it is essential that you not only set a regular schedule for your day but you need to also keep track of all of your tasks including both pending and completed ones. You can use a variety of methods for this but here are some free online tools to consider:
Tasks and project management: Air Table, NovaTools, Trello
Sharing documents: Dropbox, Microsoft OneDrive, GoogleDocs
Video conferencing: Skype, Zoom, Google Meetings
Team communication: Whatsapp, Slack
5.) Take Regular Breaks:
Working from home may isolate from some interactions you would normally have each day. Make sure that you take regular breaks from work as you would if you were in a traditional office. Grab a cup of coffee, take a quick walk, make a personal call.
6.) Stay Connected with Others:
Make sure that you schedule regular talks with coworkers or managers, even if these chats are only a couple of minutes long. You need to be sure that you are still properly communicating with your coworkers and managers as issues or challenges arise and avoid problems.  Never hesitate to reach out to the same people that you would normally turn to for help. It is also a good idea to schedule informal chats with your coworkers  such as a virtual happy hour after work for a catch-up session.
7.) Consider Those in Your Home:
If you are suddenly working from home, you are probably not the only one in your house who is facing this new work-life balance. You may find yourself at home with your spouse, children, other family, roommates, etc. It is best to establish clear boundaries and share them with the other people in your home. Set times or queues for others so they know when you cannot be disturbed. Clear communication keeps your home happy!
Remember to be easy on yourself and others. We are all navigating a whole new way to work and live during these unchartered times. These tips should help you to setup your home office and keep your day flowing smoothly.  It is more important than ever to communicate, reach out, connect and take care of one another.