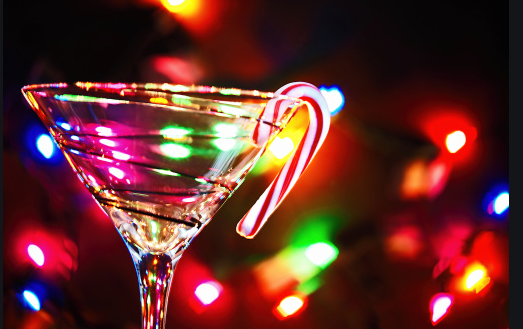 By Debbie Gregory.
We want to share some easy and delicious cocktails to serve during the holiday season.
We want to include a disclaimer and say this because we care.   The holidays are a time to party and often when some party, they consume too much alcohol.   This can create some awkward table talk but more importantly, we want to emphasize not to drink and drive.   Not only do you place yourself and your loved ones in physical jeopardy but others as well.   If the police cite you, you can be looking at legal costs of at least $10,000 or more depending on the city and state.  It is the best way to ruin your holidays and your lives so do not drink and drive.
Today, there is not any excuse with services such as UBER and LYFT.  Please put their apps on your phone and use them if you need to be somewhere and had a few drinks even if you think you are fine.  There is the solution of one person who does not drink that day or at all to be the "designated driver".
Enjoy your holidays but be safe and care about yourself and others.
Below are two cocktails to enjoy.   Let us know what you think and send your own drink recipes to info@vamboa.org
Hot Toddy – serves one but you can double and triple depending on how many and use a small tea pot
Ingredients:
3/4 Cup of Hot Water
1/4 Cup unsweetened almond milk
2 Tablespoons Brewed Hot Espresso
2 Tablespoons Bourbon
2 Tablespoons Honey
Dash of Cinnamon in a mug
Directions:
Stir all of the above together (your cinnamon is in the mug already)
Add 1 Chai Tea Bag
Let Steep for 5 minutes
Discard Tea Bag
Garnish with a slice of lemon and a cinnamon stick
Cranberry Cosmo – Serves one but you can mix for more
Ingredients:
4 Lime Wedges
5 Tablespoons of Vodka
½ Tablespoon of Simple Syrup
Splash of Cranberry Juice
Directions:
Muddle you 4 lime wedges in a cocktail shaker
Fill the shaker with ice
Add rest of ingredients and cover and shake for approximately 30 seconds
Strain into a martini glass
Garnish with fresh or frozen cranberries
As you can tell by the various recipes I share, my goal is to spend the most time with friends and family and not be chained to the kitchen or work so hard preparing meals that I miss out on the true experiences of sharing this time with the people I love the most.
Wishing everyone the best of the holidays and a happy, healthy and prosperous 2020.
Debbie Gregory