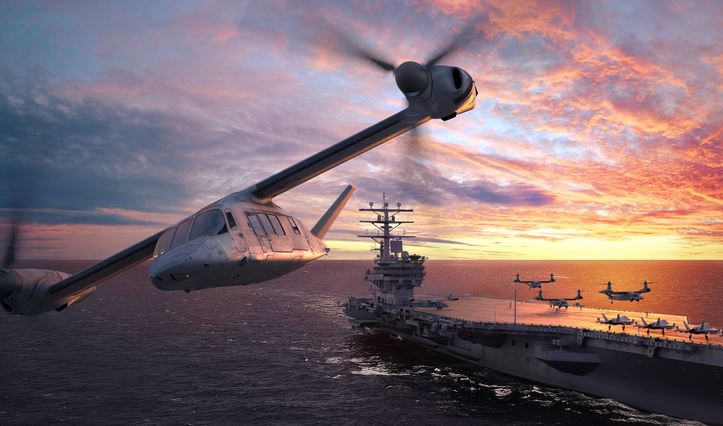 By Debbie Gregory.
The V-280 Valor tiltrotor prototype, developed by Bell Helicopters to replace both the Apache and Black Hawk helicopters in the Army's fleet is just about ready to take to the skies.
The aircraft was officially unveiled at the 2013 Army Aviation Association of America's (AAAA) Annual Professional Forum and Exposition in Fort Worth, TX
A partnership between Bell and Lockheed Martin has resulted in the V-280, a major upgrade to the Army's rotary aircraft fleet.
According to Bell's website, the Valor, a third-generation tilt-rotor aircraft, provides warfighters strategic options, operational reach and tactical agility.
Special emphasis has been placed on reducing the weight of the V-280 in order to reduce cost. To do this, composites have been used extensively in the wing, fuselage, and tail. Wing skins and ribs are made of a honeycomb-stiffened "sandwich" construction with large-cell carbon cores for fewer, larger, and lighter parts. Skins and ribs are paste-bonded together to eliminate fasteners.
The design makes the copter twice as fast and able to operate at twice the range as the UH-60 Black Hawk. The Valor is capable of hauling 23% more troops and 25% more cargo.
The design features integrated cabin armor, fly-by-wire component redundancy, state of the art countermeasures and performance.
With more than twice the speed and range of current helicopter platforms, the Bell V-280 Valor provides access to get to the objective while providing superior agility at the objective.
Team Valor's mission equipment package enables en-route situational understanding through digitally fused reconnaissance, surveillance, intelligence and friendly force information. Airborne battle boards bring fused data and mission updates to the cabin for real-time tracking
The Valor will soon undergo initial ground testing at the company's assembly center in Amarillo, Texas. The company will then move to unrestrained ground runs. When everything is determined ready to go, Bell will fly the helicopter for the first time, which will likely be a low hover over the ground.