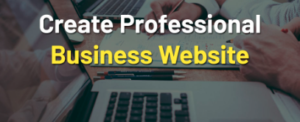 By James Pruitt, Senior Staff Writer
Remember the Importance of Standing Out from the Crowd
A distinctive online presence can attract new prospects. A flashy website should never occupy too much time or too many resources. However, always remember that first impressions are very important and matter. The sloppy online presentation does not do Veteran Business Owners any favors.
White Backgrounds are a Cross-Industry Staple for a Reason.
White backgrounds lend clarity, elegance, and professionalism. For this reason, eCommerce sites rarely deviate from this standard. Such a background creates the perfect backdrop for memorable, distinctive content. 
Web designers should take full advantage of the "blank slate" provided by a white background. In other words, remember to keep plenty of white space around any content you choose to highlight. Plenty of white space prevents clutter and draws attention to the important parts of your presentation.
The Layout Should Spark "Friendships" with Possible Customers.
Websites should introduce your customers to the enterprise's personality. Angles may include the company's values, the company's history, and the company's inspiration.
Strategies may include photos, biographies, and videos. Essentially, business owners should make their brand relatable. The personality of your business should be the first thing prospective customers think of when considering their buying needs.  The idea is to tell your story and keep your audience and customers engaged.
Finally, badges and awards signaling special recognition should be prominently displayed.
Make those Photos Top-Notch or even Professional.
Photos can provide a link between a prospect's world and that of your company. Owners should place great care in making them not only good but spellbinding if possible.
Due to legal restrictions, beware of stock photos or unlicensed material. Good websites keep the pictorial content original. For example, some businesses produce their own pictures, and others hire professional photographers. The investment can really pay off.
Keep Your Website Dynamic: Add a Blog Section.
A blog section can make a site more interesting by providing information relevant to your industry. Frequent updates can hold the interest of regular customers. Thusly, Veteran Business Owners can show off their expertise and qualifications. In this way, a business owner can impress readers with their ability to meet customers' needs.
Use the Website to Spread the Word. Promotions and Special Deals Matter.
One strategy is to "wow" potential customers with special deals. Consider any bonus inventory in your lot that may supply a catchy new sales campaign. A prominent display on your home page can distinguish you from other merchants.
Similarly, remember that small things count. A small gift or even a "thank you" at the end can go a long way in establishing goodwill between yourself and the customer. 
Conclusion
From the smallest gestures to the most outrageous deals, the content of your website should take center stage. The aesthetics should primarily function to highlight that content. 
Obviously, your operations should come first even for a web-based business. Simplicity is key, but a wisely put-together site can complement effective operations and draw new customers into your spell. 
Veteran Business Owners should always keep their priorities straight. A website should integrate with your everyday activities. No one needs distracting bells and whistles, but customers can sense your competence with a first impression that effectively and professionally displays what you have to offer. 
VAMBOA, the Veterans and Military Business Owners Association hope that this article has not only been valuable but provided some unique perspective.  We work hard to bring you important, positive, helpful, and timely information and are the "go-to" online venue for Veteran and Military Business Owners.  VAMBOA is a non-profit trade association.   We do not charge members any dues or fees and members can also use our seal on their collateral and website.   If you are not yet a member, you can register here:  
https://vamboa.org/member-registration/
We also invite you to check us out on social media too.
Facebook:  https://www.facebook.com/vamboa
Twitter:  https://twitter.com/VAMBOA
Do not forget that VAMBOA members receive significant discounts on technology needs.   Check them out here: https://vamboa.org/dell-technologies/