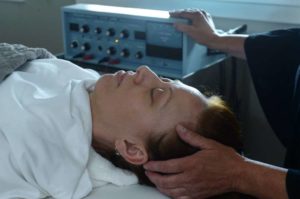 By Debbie Gregory.
Hundreds of veterans have found improvement for their Post-Traumatic Stress Disorder (PTSD) symptoms and mental disorders through an experimental new electric therapy treatment.
Former U.S. Special Operations Forces personnel have received the treatment at the Newport Brain Research Laboratory, located at the Brain Treatment Center in San Diego, California.
Dr. Erik Won is the president and CEO of the Newport Brain Research Laboratory, the company that has developed the treatment called Magnetic EEG/ECG-guided Resonant Therapy (MeRT).
Former Navy SEALS represent the perfect test group for the experimental brain treatment. They enter the service in superb health and then embark on a course of training that heightens mental and physical strength and alertness. But due to their close range exposure to explosives, they often suffer from Persistent Post-Concussion Symptoms and PTSD
With ongoing FDA clinical trials to judge the efficacy and risks of MeRT, the technique could provide an alternative treatment for debilitating headaches, inability to concentrate, memory problems, depression, anxiety, anger, aggressiveness, attention deficit and difficulty sleeping.
Won's therapy is administered by placing a flashlight-sized device near the skull and inducing an electromagnetic field that sends a small burst of current to the brain. Over the course of 20 minutes, the device is moved around the cranium, delivering jolts that, at their most aggressive, feel like a firm finger tapping.
Won, a former U.S. Navy Flight Surgeon, and his team have treated more than 650 veterans using MeRT. The therapy has shown big improvements in test subjects who have participated in the course of therapy that runs for five days a week, for about four weeks.
"It's certainly not a panacea," said Won. But he believes that MeRT could be used to replace other therapies, including drug therapy.
"I think, in the future, there will be a discussion about whether this should be first-line management. What can we do to address the functional issues at play? There's a whole lot of science to do before we get there," he said.