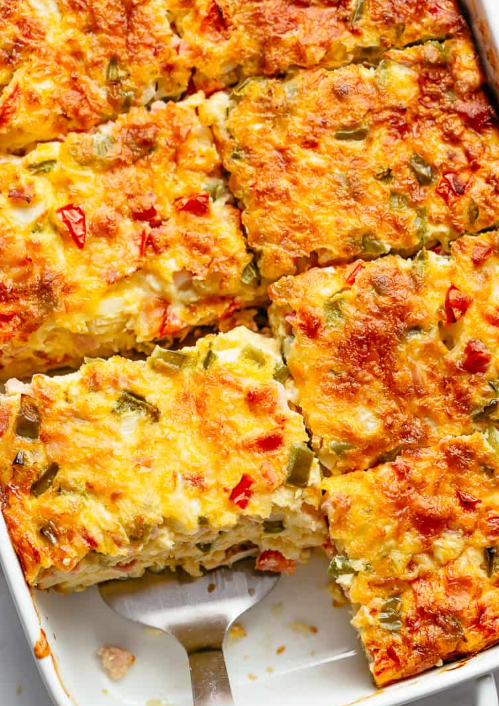 By Debbie Gregory.
This is a wonderful meal to make for the holidays, especially Christmas brunch.   There is just something about lazy mornings when you can stay in your pajamas, sip coffee or tea and be together with the ones you love.   You can put in the ingredients you love and do the preparation the night before, refrigerate and then let your oven do the heavy lifting.
You will need a 3 Quart  Pyrex Glass or Corning-ware Casserole (2" deep – 9" x 13")
Spray with cooking spray or butter it so nothing sticks.
Ingredients:
Eggs – 8 to 12 non-hormone cage free eggs are best or 4 to 6 eggs and a small carton on Egg Beaters
1 Cup Onion – you can use red, sweet vidallia, white or mix and match
Peppers –  5 Cups – Green, Red, Yellow, Orange – mix and match your favorites
1 package frozen hash brown patties – with 8 to 12 in the package
One fourth to one half cup milk for mixing
Sausage, Ham, Bacon – your preference or mix and match
Cheese – 16 ounces of graded cheese – cheddar, jack, pepper jack or any you like and you can combine favorites
Salt, pepper, garlic powder and the seasoning you enjoy in egg dishes
If you must have it with a kick and spicy – you can add sliced jalapeños and hot sauce but taste it without first
Preparation:
In a skillet lightly saute onions and peppers until they are a bit soft – then set aside
In a skillet brown your choice of bacon, sausage or ham or combine them
In a mixing bowl beat your eggs, add your seasonings, egg beaters and milk and set aside
Take your greased casserole dish and place 8 to 10 hash brown patties on bottom to cover it
Place a layer of your meats
Place a layer of your onions and peppers
Place a generous layer of your cheese
Add another layer or combine the ingredients if your casserole dish is filling allowing room for egg mixture
Pour you egg mixture over layers
Wrap in foil and refrigerate overnight or not
Preheat your oven to 350 degrees.
Put a large tray or cooking dish under your casserole dish to catch any drippings and this helps maneuver as your casserole dish is heavy.
Before you pop in oven, add one more generous layer of cheese.
Cover tightly with foil.
Bake for 30 minutes and then check and uncover and bake another 15 minutes.
Let it cool at least 30 to 45 minutes before serving and cut generous servings.
I like to serve this with a berry salad with strawberries, blueberries, raspberries, and blackberries (and you can add any other fruits you enjoy along with cinnamon coffee cake or buns) and maybe your favorite champagne or mimosas with orange juice.
This is ever so delicious and filling.   The rest of the day you will not be too hungry and will eat lightly.
Bon Appetite!