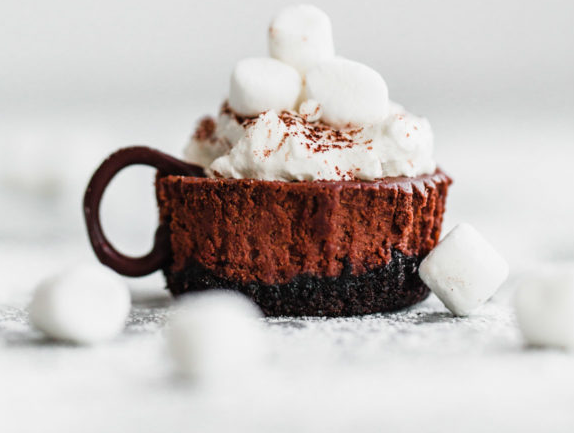 By Debbie Gregory.
Here is another wonderful holiday recipe for Hot Cocoa Cheesecake Minis.   These are a simple no fail mini cheesecake that anyone can make.  You might even be inclined to add a splash of Irish Cream liqueur too or skip it if you are making for children.  Please let us know if you enjoyed this and send us your favorites.
Ingredients:
10 Oreo (or other chocolate sandwich) cookies, crushed finely in a food processor
1 tablespoon butter, melted
2 pkg (8 ounces each) Philadelphia Cream Cheese, softened at room temperature for 20 minutes
1/2 cup plus 1 teaspoon sugar, divided
1/4 cup plus 1/2 teaspoon unsweetened cocoa powder, divided
1/4 cup Bailey's Original Irish Cream Liqueur (optional if no children)
2 large eggs
For Decorating: 
2 ounces semisweet chocolate(for the chocolate handles
3/4 cup heavy cream
1/2 cup mini marshmallows
Instructions:
Preheat your oven to 325°F with a rack in the center position. Line a 12-cup muffin pan with paper liners and set aside.
Combine the cookie crumbs and melted butter; press onto bottoms of 12 paper-lined muffin cups. Bake for 8 minutes. Allow to cool completely.
Beat cream cheese, 1/2 cup sugar, and 1/4 cup cocoa powder in a stand mixer fitted with a paddle attachment (or using a hand-held mixer) until blended. Mix in the Bailey's Irish Cream, if using. Add the eggs, one at a time, mixing on low speed after each just until blended. Do not over mix. Distribute the batter evenly among the cookie crust cups.
Bake for 22 to 25 minutes, or until the centers are almost set. Place on a rack and cool completely. Refrigerate for two hours.
Meanwhile, line a baking sheet with parchment paper. Place the semisweet chocolate in a heatproof bowl and melt in the microwave using 30 seconds intervals, stirring with a spatula after each interval. Spoon the chocolate into a resealable Ziploc bag. Cut a very small piece off one bottom corner of the bag; pipe the chocolate into 12 small 'C' shapes, resembling cup handles, onto the lined baking sheet. Freeze until solid and ready to use.
Remove the liners from the cheesecakes. Beat the cream and remaining teaspoon of sugar in a separate medium bowl with a mixer on high speed until soft peaks form; spoon onto the cheesecakes. Dust with remaining cocoa powder; top with marshmallows. Gently press the chocolate handles into the side of each cheesecake.
A few words of wisdom on this recipe:
You can top with a dollop of whipped cream , mini marshmallows and a light dusting of cocoa powder to make them festive – when in doubt add a topping
You will need to set aside 2 hours for chilling in the fridge but the actual assemble and bake time is less than one hour
Bring your cream cheese to room temperature by leaving it out for 20 minutes or so on the counter before mixing
Before you add the eggs, beat the cream cheese and sugar until there are not any lumps
Add your eggs slowly and mix just until combined being careful not to over mix
You can make a lower fat version substitute low fat cream cheese with it being softer
ENJOY!