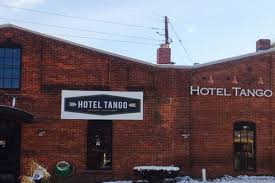 By Debbie Gregory.
Hotel Tango Artisan Distillery was founded by former Marine Travis Barnes and his wife Hilary, with the goal of making his venue a one-of-a-kind destination in downtown Indianapolis.
The name "Hotel Tango" reflects Barnes's military roots. Using the NATO phonetic alphabet, Hilary and Travis have their first letters of their name expressed by "Hotel" and "Tango" respectively—thus the Distillery's name.
After serving three combat tours with 1st Battalion Recon Marines from 2003-2006, Barnes was disabled during his last deployment to Iraq.
Barnes went to law school with intentions of becoming a lawyer but, instead he met a group of fellow law students who are now a fundamental part of Hotel Tango and its existence.
Over Christmas break of his 3rd year of law school, Barnes took an interest in spirit distillation. He also took an interest in Indiana's liquor laws and noticed an opportunity too good to pass up. He built his first still out of a turkey fryer. People enjoyed the end result, and an entrepreneur was born.
Hotel Tango opened its doors on September 15th, 2014. In addition to his tasting room and distillery, Barnes and his partners, wife Hilary, Brian Willsey, Nabeela Virjee, and Adam Willfond acquired Hotel Tango Farms, in order to grow the ingredients for their spirits. There is also the opportunity to stay at the farm's Airbnb.
Not only is Hotel Tango the first craft distillery in Indy, it's the first service-disabled combat-veteran owned distillery in the country.
Hotel Tango has locations in Indiana, Kentucky, Michigan, Ohio and Texas, but expansion plans are in the works.
The lessons Barnes learned in the Marine Corps have served him well in his business venture.