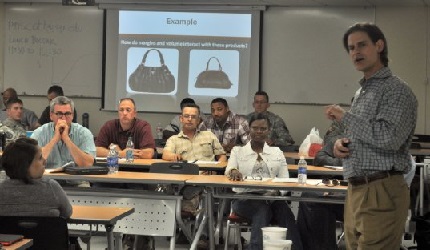 By Debbie Gregory.
The U.S. Small Business Administration (SBA) has reached a huge milestone for their entrepreneurship training programs for Veterans. SBA Administrator, Maria Contreras-Sweet, announced on April 21, 2015, that the agency has trained 25,000 transitioning service members through its Boots to Business program.
The Boots to Business is an entrepreneurial education program that the SBA facilitates as part of the Defense Department's Transition Assistance Program (TAP). All service members are required to complete TAP classes before they separate from their service branch. Boots to Business is offered as an optional portion of the TAP class to service members who are considering starting their own businesses after they separate.
The Boots to Business curriculum includes steps for evaluating business concepts, providing the fundamental knowledge needed for developing a business plan, and information on SBA resources available to help access start-up capital and additional technical assistance.
Beginning as a pilot program in 2012,  Boots to Business expanded nationally in 2013. In order to provide the education and training to service members and their spouses, the program utilizes SBA resource partners, including the Institute for Veterans and Military Families (IVMF) at Syracuse University, Small Business Development Centers (SBDC),Veterans Business Outreach Centers (VBOC), Women's Business Centers (WBC), and SCORE.
Over the last two years, the Boots to Business program has been made available to transitioning service members and their spouses, at no charge, on more than 165 military installations around the world. The education and training program provides them the opportunity to explore the possibilities of business ownership and self-employment. It also helps them evaluate the feasibility of their business concepts, and connects the aspiring business owners to SBA's network of resource partners.
This milestone is proof of the SBA's commitment to serving the community of military and Veteran entrepreneurs. From the beginning of her tenure, Administrator Contreras-Sweet has made deliberate attempts to support and provide for Veteran entrepreneurs and Veteran-owned small businesses, which she believes are essential to turning around our nation's struggling economy.
"My first day on the job was just over a year ago, and my first meeting was with Veteran entrepreneurs because I wanted to honor them and emphasize the value they bring to small businesses across the nation. We know Veterans have the courage and the determination to become great entrepreneurs, and the United States is investing in them," said Contreras-Sweet. "Boots to Business helps our service members and their spouses explore careers in entrepreneurship by showing them how to apply their military skills to start and grow their business. Our Veterans deserve every chance at success, and our economic future requires that we help them acquire the skills necessary to start the next generation of great American businesses."
For more information about the Boots to Business program visit www.boots2business.org.
The Veteran and Military Business Owners Association (VAMBOA) is a non-profit business trade association that promotes and assists Veteran Business Owners, Service Disabled Veteran Owned Businesses (SDVOB) and Military Business Owners. Small businesses are the backbone of our economy and responsible for job generation. That is why VAMBOA provides its members with Business Coaching, Contracting Opportunities, a Blog that provides information, Networking contacts and other resources. Membership is FREE to Veterans. Join Now!
VAMBOA: SBA's Boots to Business Program Reaches 25,000 Served: By Debbie Gregory